Aceeca PDA32 Pictured and Detailed
Thursday, April 8, 2010 12:19:34 PM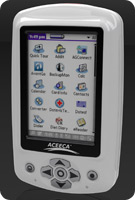 As we reported in January, one of Access' remaining Palm OS Garnet licensees has indeed produced a rather compelling new piece of Palm OS Garnet hardware. New Zealand based Aceeca is preparing to release an interesting new "semi-ruggedized" Garnet handheld that slots in somewhere between a 2005 era Palm TX PDA and Aceeca's earlier industrial handhelds. Tam'sPalm has posted a new high-resolution image and preview of the upcoming device. According to the company's literature, the tentative release date mentioned in January is on track and the device is slated to arrive April 10th with an MSRP of $199.99.
Initial inspection of the promo photograph & spec sheet reveals a glossy white device dominated by a 320 x 480 pixel LED-backlit LCD display. A 400Mhz Samsung CPU provides the processing power, and the PDA32 will come equipped with 64mb of RAM alongside 128mb of NVFS storage and a SD expansion slot. It will measure in at 128x76x25mm (5 x 3 x 1 inches) and weighs 196g (6.9 ounces), which would put it somewhere larger than a TX but leaner than a LifeDrive. The usual 5-way navigator directional pad is still present, albeit with individual buttons (likely more durable and easier to use while wearing gloves), while two shortcut buttons are provided instead of the classic four.
The PDA32's weight is unfortunately higher than most of the earlier Palm handhelds, ringing in at 196 grams (6.884 oz) vs. the Palm TX's weight of 148.834 grams (5.25oz). Also, Tam's earlier report of the PDA32's extra girth compared to the TX is accurate, as it is almost a half-inch thicker. Hopefully this is due to the gigantic 2,600 mAh internal battery and (hopefully) superb build quality. Finally, Wi-Fi networking and class 1 Bluetooth remain optional extras on the device. Despite being optional, this would be the only Palm OS device to support 802.11g connectivity. For wired connections, USB connectivity remains at 1.1 while an Infrared port makes a welcome return to the scene. The concept of a semi-ruggedized, consumer-oriented design is nothing new in the consumer electronics world, as evidences by Casio's G-Shock wristwatches or G'Zone mobile phone line but this will be the first such application in the handheld sector.
In addition to the more consumer-oriented PDA32, Aceeca is also still preparing to release a Garnet-based device more in line with their past offerings, the $499.99 MEZ1500 Garnet for industrial and vertical applications. The preliminary PDA32 spec sheet is available here at Tam's Palm (.pdf link).
Thanks to BaalthazaaR for the tip.
Article Comments
(7 comments)
The following comments are owned by whoever posted them. PalmInfocenter is not responsible for them in any way.
Please Login or register here to add your comments.