Acecca Confirms Additional PDA32 Details
Thursday, October 7, 2010 9:21:41 AM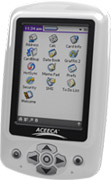 Via their community forums, Acecca has posted some new details and information about the world's only "new" Palm OS Garnet handheld, the PDA32. First off, the previously unofficial revised pricing information has been confirmed:

PDA32 base price  		        $179.00 
IRDA (high power transmit)         +$10 
Stereo audio capability               +$10
Bluetooth Class 1 (100 meters)   +$10
802.11 b/g Wi-Fi                          +$20

Responding to some user inquiries, Aceeca stated that they have no plans for additional models that are smaller and/or lighter-weight and not ruggedized. Responding to the concerns of many, there WILL be a 64-bit compatible USB driver for the PDA32. No additional info is provided, other than that Access does not have this solution in place at this time but they will keep users updated on their progress.
Finally, there is currently no USB Mass Storage support for the PDA32, since it is not a native function of Palm OS Garnet. However, Aceeca has not ruled out either cooperating with Softick (of CardExort fame) o develop this or writing their own solution though some considerable time and effort would be involved in doing so.
Unfortunately, no date or additional information was given to when PDA32 units will become available with Bluetooth or wi-fi modules installed. Currently, a PDA32 can only be equipped with the IRDA and stereo audio modules, giving them fewer connectivity options than most all other Palm OS5 handhelds.
One of the main factors preventing users of classic Palm OS devices to use their devices with newer operating systems over the past several years has been the refusal of Palm or Access to release an updated USB driver or Palm Desktop package compatible with 64-bit versions of Windows. While the Vista-compliant Palm Desktop from 2008 works fine under Windows 7, users are left to Hotsync over a Bluetooth connection due to the lack of compliant USB drivers. If Aceeca and Access can pull off the substantial task of updating two of the more glaring shortcomings for Garnet devices (lack of 802.11g support and no 64-bit WIndows Hostync), then the PDA32's will likely become a considerably more appealing alternative to legacy Palm Inc. devices.
Article Comments
(36 comments)
The following comments are owned by whoever posted them. PalmInfocenter is not responsible for them in any way.
Please Login or register here to add your comments.