Zodiac Gameboy Emulator Challenged by Nintendo
Friday, March 12, 2004 10:09:34 AM
UPDATED Crimson Fire Entertainment recently announced plans to release a Nintendo Gameboy, GBC and Gameboy Advance emulator for the Tapwave Zodiac platforms. The release has now been indefinately postponed due to legal threats brought against the company by the Nintendo Corporation.
The first release of the Firestorm gbaZ emulator was set for public release today. The program would allow users to play copies of Gamby Advance, Color and original titles on the Zodiac.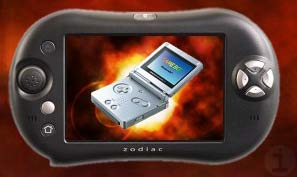 One day prior to release, project leader Kyle Poole received a letter from Nintendo of America's lawyers. Nintendo has requested that the Crimson Fire immediately cease promoting and releasing the planned emulator. Nintendo own patent, trademarks and copyrights in its GameBoy family of video game systems and technology.
Nintendo was also recently awarded a US Patent (6,672,963), which relates to software emulation of a handheld video game system. This patent effectively makes any unauthorized Nintendo emulator illegal in the United States.
At the moment, the release of the Firestorm emulator has been indefinitely postponed while Crimson Fire consults with a lawyer. The company had been accepting pre-orders for the title and will refund them if a release is not possible.
UPDATE:
Crimson Fire has announced they will not allow the legal threat to stop them from releasing the emulator. The company believes that the US patent does not apply to their software title. The group will release the emulator early next week as a free open source project, covered by the GPL license. The emulator will be made available along with the full program source code.
Article Comments
(11 comments)
The following comments are owned by whoever posted them. PalmInfocenter is not responsible for them in any way.
Please Login or register here to add your comments.

Comments Closed
This article is no longer accepting new comments.