Quickies: TE GPS, Wireless eBay, Docs2Go and More
Tuesday, April 6, 2004 11:01:26 AM
palmOne has launched new enterprise professional services, a Tungsten E GPS bundle is available in Europe, Doc2Go has been updated and a number of new emulators, games and other software have been announced. Read on for more.
palmOne Professional Services
palmOne Professional Services, in conjunction with select system integrators, independent hardware and software vendors, and value-added resellers, provides businesses with the resources and know-how required to conceive, design, test, implement and deploy customized mobile solutions with palmOne devices. It also offers technical expertise to help businesses complete mobile solutions already in progress. palmOne Professional Services can work on-site with developers, leading or assisting with any stage of a mobile solution's development lifecycle.
The group offers a range of services from full lifecycle scoping, design and development of mobile solutions to technical support and training. palmOne manages the services infrastructure and provides an organization with personalized access to a secure website to view, download and manage data captured from handhelds in the field.
Docs 2 Go Update
Documents to Go has been updated to version 6.008. Some new features of the update are UX50 landscape support, enhanced Treo 600 navigation, word count, expansion card categories, bluetooth sending and receiving and an updated desktop application. The standard and premium editions are available for both Mac and Windows.
Abidia Wireless
Abidia Wireless now includes an updated Palm OS version that includes real-time information about items won, lost, bought, and sold. See or add items in their watch list, the item's current bid price, an image, or compare prices in other auctions. Sellers can now view the status of auctions away from their PCs and get a list of the similar items to compare prices and see pictures of competing items. The software is available for $24.99 USD.
Tungsten E GPS Bundle
A company called Kirrio along with PalmOne Europe is selling a product that allows a small GPS receiver to connect to a Tungsten E through the USB port. It is called the PalmOne GPS Solution TE Edition as well as at the PalmOne Europe site. The GPS reciever is only sold with the handheld and the bundle goes for 429 Euro. - Mark Hawkins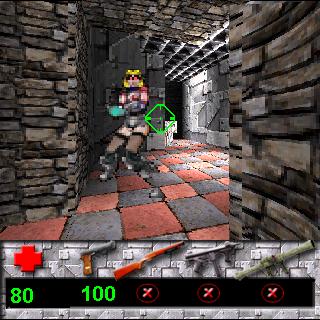 Daedalus 3D
The Italian software house Safoa.net has just released Daedalus 3D, a new innovative full 3D game for the Palm OS. TThe developers claim, "detailed graphics and the performances similar to those obtained on a latest-generation PC" Daedalus 3D was is compatible with Palm OS 5 and has support for 480x320 graphics on palmOne, Sony and the Zodiac.
Formulae 1
Poliplus Software has announced the release of its award-winning product Formulae 1 for PalmOS devices from palmOne. Formulae 1 (F1) is a powerful and easy to use Computer Algebra System designed specially for students and professionals that require mathematical support on the go. F1 gives the user the ability to see intermediate steps of calculations as well as final answers. The program requires the WebSphere Java runtime and costs $29.95.
MMPlayer
A new version of MMPlayer (v0.2.10) has been released. The update adds support for email attachments, HTTP streaming and HI-Fi audio for Clies. MMPlayer is a powerful Mobile Media Player for PalmOS that supports the widest variety of codecs, formats and protocols.
Colecovision and Atari ST Emulators
CodeJedi has released and updated two new freeware emulators. Columbo is a new Colecovision emulator. This early release requires Palm OS 5 and above, and a high res screen. Its a port of Marat Fayzullin's ColEm; and is open source. Updates over the next few days to include auto-throttling, full screen scaling, audio support, etc.Castaway, a Atari ST emulator from CodeJedi, has also been updated. The new version will auto throttle the fps for a better display smoothness.
Splash ID for Mac OS
SplashData has launched a major upgrade to the Mac OS version of its best-selling personal identification organizer, SplashID. SplashID 3.0, which securely maintains personal identification information on a Palm Powered handheld and desktop computer, now offers Mac users a host of new features. New features include custom icons and icon sets, assign records to categories, custom templates and enhanced security. SplashID 3.0 for Palm OS and Mac OS sells for $29.95. Current users can upgrade for $9.95
Article Comments
(13 comments)
The following comments are owned by whoever posted them. PalmInfocenter is not responsible for them in any way.
Please Login or register here to add your comments.

Comments Closed
This article is no longer accepting new comments.