New Palm OS Entertainment Titles from Handmark and Capcom
Tuesday, March 10, 2009 11:50:03 AM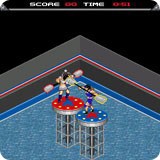 Quite surprisingly, 2009 has been a busy year so far for mobile published Handmark concerning new Palm OS entertainment titles. The latest Handmark promotion focuses on four new entertainment titles for Palm OS devices, all of which are based on licensed media properties or existing console game ports. The new titles are all developed by Capcom and consist of: Who Wants to be a Millionaire 2009, American Gladiators, Resident Evil Degeneration, and Are You Smarter than a 4th Grader? In addition, a Palm OS port is also available of Dead Rising, the Capcom Xbox 360 zombie survival smash hit from 2006. Handmark is also offering a 15% discount off any of the four above Capcom titles as well as Dead Rising through the end of the month using the discount code "GAME15".
In addition, a number of additional new titles also offer Palm OS versions, such as Wheel of Fortune Road Trip, Bubble Shuffle, Billiards 5.0, Tetris Mania, Sims 2, The Simpsons 2, Tiger Woods PGA Tour '09, Q*bert, and several Jeopardy! titles. Perhaps borrowing a page from the successful Apple iPhone app store strategy, nearly all of the titles are attractively priced at $9.99, $8.99 or even less, a good bit lower than what Palm OS users have seen in years past.
Unfortunately, the initial signs for a late renaissance in affordably-priced Palm OS gaming do not look too optimistic. Based on the screenshots on Handmark's website, the Palm OS versions make them look like little more than hastily-ported over cut-rate cellphone game ports, with graphics reminiscent of something from the Palm OS 3 -era. Additionally, none of the offerings have demo versions available for trial and the supported device list mentions official compatibility with the Centro, Treo 700p, and 755p, with the 680 supported by some titles.
Handmark began phasing out official support for Palm OS-based handhelds, 320x480 screen resolutions and older Palm OS smartphones such as the Treo 650 quite some time ago. In addition to Capcom, some of the mobile titles were developed for the Palm OS by Electronic Arts, whose previous work on the 2006 edition of Palm OS Tetris for Handmark was incredibly disappointing.
Leave a comment...

Click on the
Start New Comment button
below to begin a discussion.
You must be
registered
and
logged in
to add comments.