Additional Sprint Treo Pro Availability News and Pricing
Friday, March 06, 2009 4:00:49 PM

Wrapping up this week's flurry of Treo Pro news is confirmation of the Pro's full retail price on Sprint. Numerous sites are reporting on a newly leaked internal Brightpoint/Sprint inventory screen capture with a list that should complete squash any remaining Pre March release date rumors. (full pic after the break) (BBHomepage via BGR)
The Palm device actually hitting store shelves in March is of course the Treo Pro (aka Treo 850) and will carry model number PTR850HK. The Pro is now finally confirmed for release on March 15th for shipment to Brightpoint customers as well as Sprint corporate stores based upon our previous report.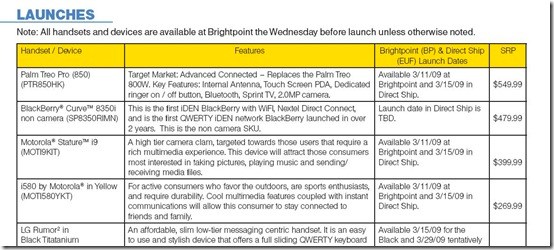 So the Pro should swiftly arrive in both Sprint corporate as well as authorized reseller stores after the 15th and hopefully enjoy more widespread availability than the outgoing Treo 800w.
Brightpoint is a wireless outsourcing & logistics firm as well as Sprint's largest Master Agent. They serve as an intermediary between Sprint/Nextel and independent wireless resellers and often serve as a timely source of leaked information immediately prior to the arrival of new handsets.
The full retail price of the Sprint Treo Pro has also been confirmed by BGR to be $549.99, so Palm's tradition of exorbitantly priced CDMA handsets without subsidies looks to continue.
Leave a comment...

Click on the
Start New Comment button
below to begin a discussion.
You must be
registered
and
logged in
to add comments.