Review: palmOne SDIO WiFi Card
By: Ryan Kairer
August 17th, 2004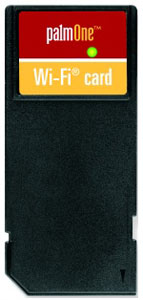 The new SD WiFi card from palmOne is a long overdue wireless accessory. The card enables the Tungsten T3 and Zire 72 handheld to connect to 802.11b/g WiFi networks though the secure digital expansion slot. With the huge growth of home wireless kits and public WiFi hotspots being deployed, this SD card opens up another wireless solution.
The WiFi card is 53 mm long and a mere 3 mm thick and fits into the SD expansion slot, which is most commonly used for memory cards. When seated, the card extends about three quarters of an inch out of the top of the SD slot. The card is branded with a deep red and orange palmOne sticker has a single small green LED that indicates use and connectivity.
Before using the card you have to install the setup files. The drivers require 4MB of free space on your handheld. Once installed, the drivers occupy less than 1MB of RAM. After hotsyncing the prc file over, an installer runs on the handheld, installs the drivers and resets the unit. The WiFi software is permanently loaded and can be setup and controlled from the preferences panel or via the WiFi setup application. The drivers also add a WiFi strength indicator to the command bar (drag your stylus from the bottom left to the top right) which shows the current strength and also acts as a shortcut to the WIFi preferences.
WiFi setup will search out available networks and will display the options it finds. It reports back with a list of access points in range with signal strength and wether the AP is encrypted. You can also manually setup WIFi network connections as well as setup connections to stations that do not broadcast the SSID.
The card supports WEP encryption and will accept 40 and 104 bit keys. These can be either ASCII text, a hexadecimal number or a pass-phrase. My Linksys AP router only had options for 64 bit and 128 bit keys, so I had to use the pass-phrase option. The card also supports both Infrastructure (to an access point) and Ad-hoc (peer to peer) connection modes.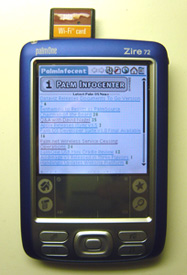 The WiFi card preferences is by default set to conserve power, selecting no will use full power continuously, which will improve performance but shorten battery life. it also has a nice roaming setting that be be configured to seek out the strongest AP when your signal gets weak. That is ideal for corporate and campus networks that typically have multiple APs working together.
Once the card is setup and your network connection is established, you can now take full advantage of your wireless connection. For my review I used the card with a Zire 72. The wireless range was very good, it even seems much stronger than the Tungsten C's range. Because the card sticks out of the top of the handheld about an three quarters of an inch, I'm nervous about leaving it inserted while stored away in my pocket where it could easily snap.
palmOne states that users can expect at the low end a minimum of one hour of continuous usage. During my testing I found I get about 90 minutes to 2.5 hours of wireless use, when using it for a couple times a day for short periods of time. In short, it definitely draws a lot of power and will make a big impact on your handheld battery life. If you want to get more juice out of the T3, there is the palmOne power to go battery expansion sled.
I had some issues with it not wanting to connect to my particular access point. It would only make a connection about 75% of the time. I was unable to conclude if it was an issue with the SD card or my access point but it definitely had a hard time connecting every so often. I do use a number of other PDAs with WiFi and have not had issues, but I wasn't able to resolve the problem. While it was not a major problems as it was usually overcome with a reset, it was something worth noting.
So why is the card only available for the T3 and Zire 72, and not other models with SD slots? The official answer from palmOne is: Following market and development-cost analysis, palmOne wanted to develop a Wi-Fi card that will be applicable to its Zire 72 and Tungsten T3 handhelds.  These solutions require very tight integration between hardware, firmware and custom software, as well as access to propriety technologies for the level of tight integration necessary to give the customer an excellent experience. In other words it sounds like the differences between other models SD slots and other factors such as power draw and battery capacity, made is cost prohibitive to develop it for other handhelds.
The SD WiFi card for the Tungsten T3 and Zire 72 brings another level of wireless use to these two bluetooth models. The card works well, is extremely easy to setup, configure and provides excellent range. However, it is a tad pricey and is definitely a power thirsty addition.
The Palm SD WiFi card is now available now for $89 USD (Originally debuted at $129). It is also compatible with the Treo 700w.

PROS

CONS

Good Range
Easy setup & configuration
Small, Portable WiFi Addition

Power Hungry
Tad Expensive
Should have been released years ago
Overall Rating: 7.5/10
Article Comments
(111 comments)
The following comments are owned by whoever posted them. PalmInfocenter is not responsible for them in any way.
Please Login or register here to add your comments.

Comments Closed
This article is no longer accepting new comments.

Only the first 50 comments are displayed within the article.
Click here for the full story discussion page...