iambic Releases Agendus for Palm OS v13
Friday, January 2, 2009 2:03:07 PM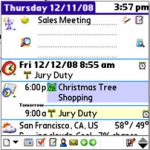 iambic has released a major new version of its Agendus Suite for Palm OS devices. The new version 13 of the award winning personal information manager (PIM) has many new features and refinements for helping those who carry a Palm Centro or Treo get more done before, during and after the activities that drive their day. There are over a dozen major new features, including time savers like "Smart Agenda" for creating Tasks, Meetings and Memos on-the-fly, and fully editable Meeting and Task templates.
Agendus for Palm OS v13 is available now starting at $29.95. There are a number of versions from standard, professional and premier as well as a Windows Desktop version.
"The economy may be slowing down, but people aren't. In fact, they seem even more dependent on their mobile device to help guide them through their day. Plus, they don't have the time or patience to be fiddling around trying to find the relevant information needed to get things done," said Adriano Chiaretta, COO of iambic, Inc. "The truly exciting thing about our newest version of Agendus is that it includes many features and refinements that not only improve the usefulness of our award-winning, personal information manager, but also speeds up how someone interacts with it. Thanks to input from our dedicated user base, Agendus Version 13 has evolved into a must-have companion for those striving to accomplish more while on the go."
Agendus Version 13 includes refinements for improving how the information in your Centro or Treo can be harnessed to help guide you through your day. It now provides a better snapshot of what's going on that includes Contacts, Meetings, Tasks so you get a more complete picture. Plus, it includes the ability to add icons to Contacts. This user-requested feature makes it easy to recognize, at a glance, the person on the Contacts list associated with a particular activity.
Anyone with Version 11 or 12 of Agendus can obtain Version 13 for the special price of $9.95.
Article Comments
(1 comment)
The following comments are owned by whoever posted them. PalmInfocenter is not responsible for them in any way.
Please Login or register here to add your comments.