MobileHeist - Top Palm OS Apps at 50% Off
Tuesday, December 09, 2008 8:32:18 PM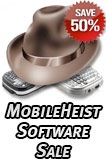 The PalmInfocenter Software store is kicking off another massive Palm OS software sale. Starting today and running through this weekend, we are offering 25 of the best-selling Palm OS apps all for 50% off each for 5 days only. That equals up to an average savings of $10 with some discounts as high as $20. Now is your chance to pick up some of the best titles for your Centro or Treo at ridiculously reduced prices.
Titles include... TouchLauncher ($6.99 now $3.50), CallRec ($19.99 $10.00 ), USB Modem ($24.95 $12.48), Quick Memos ($9.95 $4.98), SafeGuard ($19.95 $9.98), 4cast ($9.95 $4.98), RingCare ($24.95 $12.48), Softick Audio Gateway ($19.95 $9.98), UltimatePhone ($9.95 $4.98) and many more.
All of the titles can be found here at our MobileHeist Sale Page. Each application must be added to your cart from this page to qualify for the discount, no coupon codes are necessary. The sale is good for 5 days only, so act fast. The promotion runs until the end of day, Sunday December 14th.
Leave a comment...

Click on the
Start New Comment button
below to begin a discussion.
You must be
registered
and
logged in
to add comments.