Quickies: palmOne Vids, GPS, 100K Comments & More
Friday, November 19, 2004 2:12:56 PM
PalmInfocenter has surpassed over one-hundred thousand article comments, new videos of recent palmOne presentations, a GPS solution for the Zire 31, a ton of software updates and much more in todays Palm OS quickies news update.
palmOne Strategy Presentation
palmOne has posted a webcast of CEO Todd Bradley's presentation at the Lehman Brothers Small Cap Conference in Scottsdale, Ariz. made yesterday (Nov 18th). The presentation is available in Windows Media and Real format and lasts one hour.
GPS Solution for Zire 31
Jelmer Jonkman sent in word about a palmOne Zire 31 GPS solution in the Netherlands. Maybe it will become available in the rest of the world too. The site is a dutch sub page of the official PalmOne website It uses the same technology as the TE gps solution from Kirrio, although there is no price given on the site.
Treo Roadshow presentation Video
Gaurav noticed someone graciously posted a video of the entire Treo Roadshow presentation that was recently held in New York City.
100,000+ Comments
Congratulations to The Voice of Reason for posting the 100,000th comment on a PIC article. Since beginning in January 1999, PalmInfocenter has published over 6000 articles on mobile technology and has logged hundreds of thousands of user contributed posts and commentary. Many many thanks to everyone!
The Tribe: eye-candy screensaver

Handy Entertainment has just released a bit of a new eye-candy screensaver for Palm OS 5. The Tribe follows the best traditions of Riverland Screensaver. It offers a sure way to escape from your workaday routine and get a storm of cheers in just a moment. The new screensaver is developed in bright colors of hot African scenery. Cartoon animations of aborigines are spiced up with a good portion of humour. On the whole, The Tribe has that very "wow" factor to grab attention of your family, friends, and colleagues. The Tribe is priced at $6,95 with a trial available.
Receiveit v3.0
Equattor has released Receiveit 3.0 with new features such as receiving any type of files on your handheld with no limit, saving files onto your internal/external disk, copy/move files to your PC with Hotsync and a lot more. It has a new price of $12.94 and upgrade price is only $ 3.00. [BUY]
funSMS 5 adds Bluetooth Control
funSMS 5 PDA provides now a very convenient, fully automated way of controlling the Palm OS handheld's Bluetooth radio. Through complete control of the power supply, fun Bluetooth Power Management helps to reduce the drain on the battery and extends by this means the runtime of the Palm OS Organizer. funSMS 5 PDA is available for 24.95 Euro or $24.95 USD. [BUY]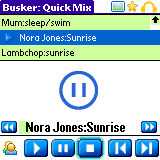 Busker MP3 player
Electric Pocket announces the launch of its new Busker MP3 player for Palm OS PDAs and smartphones. Busker enables Palm OS users to play MP3 tunes stored on a SD card and features a bold, bright and easy-to-use interface that provides the user with the fastest way available to access the tunes list and begin playing their favorite songs.
The major components to Busker are all focused on ease-of-use. A key feature is QuickMix, a simple, one-step operation to play a mix of songs, while Busker Favorites offers a list of favorite songs that can be played with a single tap of the stylus. Busker enables users to take full advantage of the high resolution color displays on newer PDAs and smartphones by displaying Album Art pictures for MP3 tracks. Album Art is a picture which can be embedded within each MP3 file. Busker is the only Palm OS MP3 player to display Album Art images onscreen while playing the song. There is a seven day trial and the software is $19.95 to purchase. [BUY]
LingvoSoft releases English <-> Arabic FlashCards
Play FlashCards on your Palm OS and learn English and Arabic! Now you can memorize new foreign words quickly and easily! Just play one of four learning games which are exquisitely fun and educational, and expand your vocabulary! FlashCards is a powerful learning tool which helps you memorize new words and spelling. With the help of this distinguished software the learning process turns into an exciting game. The LingvoSoft FlashCards English-Arabic for Palm OS application supports English and Arabic word databases only. LingvoSoft FlashCards Builder is the means for creating your own FlashCards word databases, from your personal text files as well as from clipboard bits.
1st PUG in The Middle East
Filly Carey writes, The 1st PUG in The Middle East. Dubai PUG is now Live. After a long struggle with support for palmOS devices in the M.E. region, a group of palmOS fans started the 1st and only PUG in the Middle East. The PUG started to help build a string palmOS community, in a region dominated by Microsoft mobiles devices, we wish the founder and the team all the luck in building a strong palmOS community.
ShortCircuit
TealPoint Software has announced the release of ShortCircuit version 1.01 for Palm OS handhelds. A new addition to its unmatched product line of award winning PalmOS software titles, ShortCircuit is the highly-anticipated first game from TealPoint Software. Deceivingly simple, ShortCircuit challenges with a new twist on gameplay fused from several all time action puzzle favorites. Players connect falling conduit pieces into explosive loops in this frantic race against the clock. ShortCircuit's gameplay is both fresh and familiar, and engages any time a player wants a fun break, for 5 minutes, or 5 hours. Advanced features include a high score list, color or monochrome graphics, animation, and sampled sound effects. ShortCircuit retails for $14.95.
Bluekey - Bluetooth Security App
Bluekey is a Palm OS security program. Unlike normal security programs which uses passwords, photos or button presses, Bluekey uses Bluetooth to unlock your PDA. This methodology offers the fastest unlock time (less than 3 secs while connecting to a pc) and highest level of security (nobody else can unlock by copying your passwords. the unlock window is just <10m away from your device).
Article Comments
(30 comments)
The following comments are owned by whoever posted them. PalmInfocenter is not responsible for them in any way.
Please Login or register here to add your comments.

Comments Closed
This article is no longer accepting new comments.