Seidio Announces New Centro Extended Battery
Thursday, June 05, 2008 10:01:52 AM
One of the biggest compromises entailed by the Centro's relatively small size relative to its Treo brethren is the reduced battery life. With only a small 1150mAh stock battery, the Centro offers the smallest stock battery of any Palm smartphone yet, less than the 1200mAh of the older Treo 680 and 750. Palm did briefly announce, release, and then almost immediately EOL their own branded extended battery earlier this year.
Fortunately, longtime Palm accessory specialist Seidio, suspiciously silent on the Centro battery front, has just announced an extended battery designed exclusively for the Palm Centro. While this new offering from Seidio unfortunately doesn't fit under the stock battery door, it does offer a whopping 2600mAh of power (an increase of almost 40%) while remaining the same approximately physical size as Palm's 1800 mAh battery. For comparison purposes, 2600mAh is the capacity of the largest Seidio battery that fits the stock battery cover of the Treo 650 and 700p/w/wx.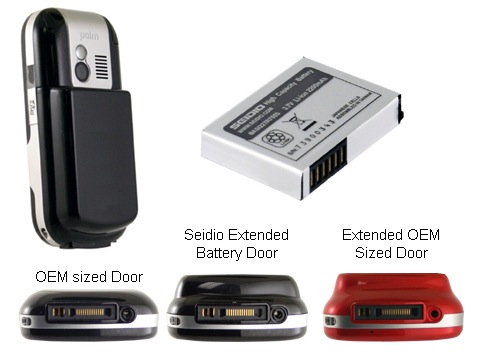 The new Seidio Centro battery does extend the thickness of the Centro by ~5mm and requires the included "rumpshaker" replacement battery door to be installed. The replacement door is, for the time being, offered only in black. It is fully compatible with Seidio's rubberized holster. Seidio has the battery in stock and available for purchase now for $49.95 plus shipping.
Unconfirmed reports online have offered speculation that Seidio has somehow been "locked out" of making an OEM-size extended battery for the Centro and new Treos (800w & 850). So Palm may conceivably be working their own branded higher-capacity OEM-sized battery for the Centro and the upcoming 800w and 850.
Article Comments
(4 comments)
The following comments are owned by whoever posted them. PalmInfocenter is not responsible for them in any way.
Please Login or register here to add your comments.