New PDA Tool for Emergency Responders
Thursday, March 17, 2005 11:36:47 AM
The National Library of Medicine (NLM), a component of the National Institutes of Health, has announced the release of a PDA software tool designed to help first responders when they arrive at a hazardous material (Hazmat) incident, such as a chemical spill.
WISER ( Wireless Information System for Emergency Responders ) provides the emergency responder with critical information on hazardous substances, including physical characteristics, human health data, and containment and suppression information. Employing the unique characteristics of a PDA ( Personal Digital Assistant ), WISER is customized for easy navigation and quick access to key information required by first responders. To aid decision making, users can specify the role they are currently performing at the scene of an incident, and WISER organizes the critical information in a sequence most relevant to a first responder on-the-scene, a Hazmat specialist, or an emergency medical specialist ( EMS ).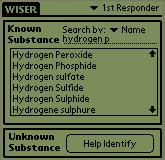 "First responders in general, and Hazmat units in particular, must make decisions quickly in handling hazardous-materials incidents," says Dr. Jack Snyder, NLM Associate Director for Specialized Information Services. "They need accurate information about hazardous substances, emergency resources available, and surrounding environmental conditions to save lives and minimize environmental impacts. WISER provides this lifesaving service."
Snyder observed that WISER will be an indispensable tool for first responders in their efforts to combat the growing incidence of hazardous material incidents in the United States. Based on statistics collected by the U.S. Coast Guard's National Response Center on all hazardous substances and waste released into the U.S. environment, Hazmat incidents have been increasing yearly since 1991, with approximately 34,000 incidents reported in 2004.
A useful feature of WISER is support for identifying an unknown substance. Using input about observed physical properties of the unknown substance, along with reported symptoms and observable signs among victims, WISER can help the user narrow the range of substances that may be involved in a specific incident. As the emergency responder selects observed properties and symptoms, WISER looks in its database for chemical substances that have these characteristics. The list of candidate chemicals decreases as additional information is provided, and WISER presents the user with a list of candidate chemicals at any point in the identification process.
WISER for Palm OS is now available without charge for downloading to users' PDAs at wiser.nlm.nih.gov. A desktop version will be available later this spring, and a web-based version is also being developed.
Article Comments
(3 comments)
The following comments are owned by whoever posted them. PalmInfocenter is not responsible for them in any way.
Please Login or register here to add your comments.