MotionApps Releases mRSS v5.0
Thursday, April 24, 2008 10:43:36 AM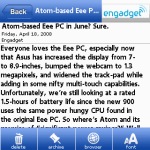 MotionApps has released a new version of its RSS feed reader for Palm OS. mRSS v5.0 brings a new look and an "advanced user interface" that sports hand gestures and finger optimized control. Like any proper feed reader should, mRSS can can download and display the latest news and content from numerous sources of your choice. This new version also allows you to easily send feeds and subscriptions to your device from your desktop computer and has a built in supply of recommended sources.
mRSS v5.0 for Palm OS is available now for $19.99. It comes with a free trial period. It is compatible with the Palm Centro, Treo 755p/700p/680/650 and 600.
Leave a comment...

Click on the
Start New Comment button
below to begin a discussion.
You must be
registered
and
logged in
to add comments.