SFGate Editorial on IPhone's Success & Palm
Tuesday, November 6, 2007 9:52:30 AM
The San Francisco Gate has posted a new editorial entitled, "IPhone's success spawns generations of imitators-and challengers". The piece does not focus exclusively on Apple's much-hyped entry into the smartphone market, however, as it also offers some discussion focusing on Palm's cloudy outlook as well as some choice quotes from a Palm spokesperson.
Some interesting comments are attributed to Palm's Rob Katcher, senior product manager for smartphones, regarding the new Palm Centro. By far the most intriguing comment from Palm is the statement by Mr. Katcher that the iPhone hoopla has "cued people in" to touch-sensitive LCDs, a Palm hallmark since the launch of the original Pilot in 1996. Katcher additionally comments that Palm's marketing push for the Centro has been geared to play up the touch screen's capabilities in light of the iPhone frenzy. Such statements directly from a higher-up at Palm will only make long-term Palm OS users wonder why Palm has not released a device with a resolution greater than 320x320 since 2005, as Palm has produced PDAs since 2003 utilizing 320x480 LCDs—the exact same resolution found in the Apple iPhone.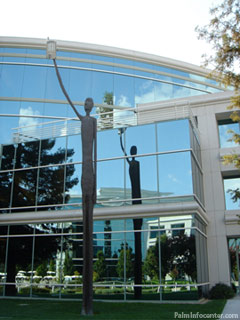 Palm's recent launch of its first non-touchscreen equipped device, the internationally focused Windows Mobile 6 Standard powered Treo 500v on Vodafone, also is a bizarre departure from the company's previously touchscreen-exclusive product strategy, especially in light of the strong support evidenced above for the Centro's LCD.
Mr. Katcher goes on to mention that the Centro offers "…a more friendly combination of messaging applications, a tactile keyboard-and a $99 price tag." He goes on to say "The iPhone is $400 and the Centro is $99. They're in two completely different ballparks."
The SFGate piece mentions the HTC Touch (powered by Windows Mobile 6 Professional) and also available on the Sprint network as that carrier's equivalent iPhone-style device. The recent report on the iPhone impact from the NPD Group, predicted earlier this year, is again mentioned in the SFGate article as a telling statistic of Palm's dire straits in the immediate aftermath of the iPhone launch.
Article Comments
(26 comments)
The following comments are owned by whoever posted them. PalmInfocenter is not responsible for them in any way.
Please Login or register here to add your comments.