Missing Sync Version 5.0 Released
Wednesday, November 02, 2005 9:52:37 AM

Mark/Space today announced version 5.0 of their award-winning Mac synchronization software, The Missing Sync for Palm OS. This major upgrade improves syncing with the Address Book and iCal applications in Mac OS X 10.4 Tiger, introduces folder synchronization, Spotlight searching of memos and adds synchronization of iPhoto albums and iTunes playlists.
"Version 5.0 of The Missing Sync for Palm OS represents the realization of our two-year plan to deliver an improved Palm OS synchronization experience for Mac users," said Brian Hall, president and CEO of Mark/Space. "Last year, with the release of version 4.0, the focus was on connectivity, device management and usability. Version 5.0 completes the picture by vastly increasing the types of information that users are able to sync, including handheld calendar categories and additional contact record fields, providing a better experience all around."
Most importantly for users, this release of The Missing Sync interfaces with Tiger's new Sync Services technology, allowing contacts, calendar events and tasks to be synchronized directly with the master database on the Mac. Previously, users had to go through Apple's iSync utility and iSync Palm Conduit. Unfortunately, the latter has not been updated to handle the latest handheld database fields, such as calendar event categories, multiple postal addresses, instant messaging addresses, and birthdays. The Missing Sync now does all this and more, even synchronizing contact photos from Palm Treo smartphones and other camera-enabled Palm handhelds.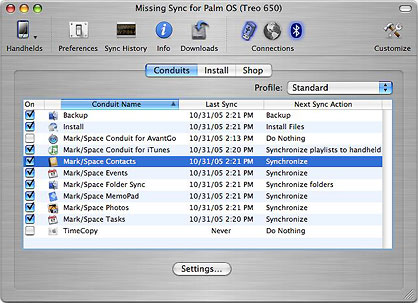 Version 5.0 introduces a new Folder Sync conduit that allows users to define folders on their Mac and Palm OS device that are then kept in sync automatically. For example, if a document is edited on a Palm OS handheld, the updated version will be copied back to the Mac the next time the Folder Sync conduit is run. Users can define multiple folders and unidirectional or bidirectional synchronization.
New conduits for iPhoto and iTunes provide media synchronization. iPhoto albums can be selected for synchronization, and photos can be automatically resized for optimized viewing on the Palm OS device. Additionally, photos taken with a camera-equipped handheld or smartphone can be copied to the Mac, either into a specific folder or directly into an iPhoto album.
The new iTunes conduit lets users select playlists to be synchronized with their device. All audio files in a format supported by software on the handheld are automatically copied. The plugin even supports Smart Playlists that select music at random, so new audio files will be sent to the handheld during every sync operation. Both the iPhoto and iTunes conduits can be set to ensure that a specified amount of storage space is left available on the device.
New connection-aware Conduit Profiles give The Missing Sync the ability to run a specific set of conduits based on the type of connection made between a Palm OS device and a Mac. One use of this feature could be to have all conduits run when the device is connected via its cradle or USB cable, but then to only run a subset of conduits if the connection is over Bluetooth or Wi-Fi, saving time when using slower connections.
Mark/Space's bundled MemoPad application runs on Mac OS X and gives users a way to create, edit and synchronize handheld notes. With the 5.0 release, MemoPad gains sorting and searching capabilities, and it also responds to Spotlight searches on Tiger, giving users more ways to quickly locate the information they need.
With all these features and more, Mark/Space didn't forget the importance of easy setup and use. A new series of Setup Assistants walks each user through installing bundled handheld applications and configuring synchronization settings for their specific needs. The user only needs to answer a series of questions, and The Missing Sync takes care of the rest.
Third-party Developer Support and Intel-Based Macs
With the pending arrival of Intel-based Macs, many Palm OS device users who work on the Mac platform are wondering about the future of interoperability between their favorite devices. Mark/Space is working to ensure continued Palm OS device connectivity with Mac OS X. The company's engineers have developed a bridge library for third-party conduit developers that will help them make the transition to an Intel-based Mac platform. Conduits that incorporate this bridge library will not only work with future versions of The Missing Sync and Mac OS X on Intel, but they will also function under The Missing Sync and HotSync Manager today. This software component is available for free to interested conduit developers; it may be downloaded from the Developers section of the Mark/Space website
Pricing & Upgrades
The Missing Sync for Palm OS is available for immediate download (as a four-language installer, including English, French, German and Japanese) from the Mark/Space Online Store. The electronic download sells for $39.95; retail packaged CD's will be available starting several weeks later for $49.95. All customers who purchased The Missing Sync for Palm OS on or after October 1, 2005 are eligible for free upgrades, while owners of any previous Missing Sync product, regardless of platform, are able to take advantage of a special upgrade price of $24.95.
Article Comments
(7 comments)
The following comments are owned by whoever posted them. PalmInfocenter is not responsible for them in any way.
Please Login or register here to add your comments.