TMP - Time Manager Pad PIM Updated
Tuesday, February 21, 2006 11:21:46 AM
Lil' Red Spider has released an update to its TMP replacement PIM software. TMP (Time Manager Pad) is a list-style appointment viewer and manager with a unique new layout that scrolls seamlessly and makes managing your agenda more intuitive.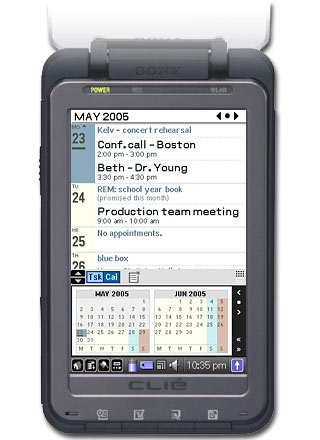 TMP's unique layout with seamless scrolling makes managing your agenda and getting the overview more intuitive and faster. It has a main agenda view that shows descriptions and time/location information for each event, each with multi-line support and selectable font. You can also color-code specific display elements and item types to further improve at-a-glance differentiation of days of the week and event and task item types. The integrated task list is capable of expanding fully to almost the full screen for maximum viewing, or collapsing completely out of the way when not needed.
New Features in TMP v.1.17:
Configurable scroll controls - select the scroll amount for each region individually, for each set of scroll controls.
Recurring tasks and task alarms.
Assignable view control function. Hard button view control can be assigned to a hard button other than the app launch button. Treo 600/650 users can also assign view control to the 5-way navigator with the Option or Shift key.
Treo 600/650: Support for vibration and sampled sounds for alarms.
Treo 650 specific initial font settings for improved default display on that device.
New alarm options including 100x alarm nag and play alarm sound multiple times.
Time Manager Pad comes with a free trial and costs $17.95 to register. (Take a 15% discount for a limited time using coupon code: PALMINFO )
Article Comments
(4 comments)
The following comments are owned by whoever posted them. PalmInfocenter is not responsible for them in any way.
Please Login or register here to add your comments.