Chapura PocketMirror Outlook Sync Software Updated
Tuesday, February 21, 2006 10:12:46 AM
Chapura today announced the availability of an upgrade to its popular Outlook synchronization software, PocketMirror. Version 4.0 improves Outlook integration for more customizable synchronization with Palm OS devices. Each edition of PocketMirror synchronizes Outlook Contacts, Calendar, Tasks and Notes with the built-in personal information manager (PIM) software built into Palm OS devices.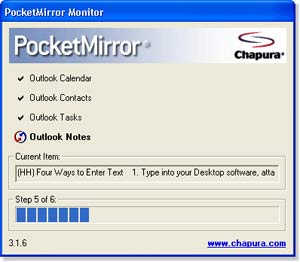 PocketMirror Standard has been bundled with over 25 million Palm OS devices, for which Chapura also designed PocketMirror Professional. Chapura designed PocketMirror Standard XT and PocketMirror Professional XT to synchronize Outlook with the exclusive, extended PIM applications that come with select Palm devices (Treo 650; T|X; Zire 22; LifeDrive; Tungsten T5, T3, E and E2; and Zire 72 and 31). The main difference between the Standard and Professional level applications is that the Standard products synchronize just a single Outlook folder per Contacts, Calendar, Tasks and Notes, whereas the Professional products synchronize up to 15 folders (including public folders from Exchange Servers, subfolders and SharePoint server folders).
New in PocketMirror Standard and Standard XT 4.0:
Transfer Global Address List to Handheld - For the enterprise market, emailing on handhelds is now even easier. Composing emails to corporate contacts is just as convenient on a Palm OS device as it is while sitting at the PC. Transfer names and email addresses from the Global Address List on a Microsoft Exchange Server to the handheld.
Microsoft Outlook 2007 Support
Change Outlook Default Folder - Synchronization of the handheld with any single Outlook folder set to be the default folder.
Alarms & Reminders -New, flexible options let customers synchronize alarms between Outlook and the handheld, keep alarms in Outlook only, or keep alarms on the handheld only.
Conflict Resolution - When the same item in Outlook and the handheld has been modified between synchronizations, PocketMirror Standard now lets the customer choose how to resolve the conflict: duplicate records, Outlook wins, or handheld wins.
Note Color - Allows the customer to choose the color in Outlook for any new Note created on the handheld.
Select Outlook Contact Address - Customers can choose which one of the three mailing addresses in Outlook to transfer to the handheld.
Task Filtering - Saves valuable space on the handheld.
Task Priorities - Transfer task priorities either by Outlook priority or by the handheld priority.
New in PocketMirror Professional and Professional XT 4.0:
Transfer Global Address List to Handheld
Integration with SharePoint - Transfer SharePoint Contacts and Calendar folders from Outlook to the handheld's built-in applications.
Microsoft Outlook 12 Support
"Chapura has added value to each Palm OS PocketMirror product with this exciting upgrade," says Keith Ellenberg, president of Chapura. "The fact that PocketMirror is still an effective business and productivity tool in high demand after nine years on the market is a reflection of the fact that it offers a solution that customers need--accurate synchronization of their data with no fuss. Chapura's commitment to maintaining a quality product and the backwards compatibility of PocketMirror software speaks volumes about our loyalty to our customers."
Customers may upgrade from an older version of PocketMirror to Version 4.0 of the same edition by purchasing the upgrade on the Chapura Web site, for $14.95. As a service to Chapura customers, those people who purchased PocketMirror on or after December 21, 2005, are eligible to download the upgrade for free from their Chapura Customer Account. All versions are also available from the PalmInfocenter Software store.
Leave a comment...

Click on the
Start New Comment button
below to begin a discussion.
You must be
registered
and
logged in
to add comments.