PalmInfocenter LifeDrive and Pilot 1000 Giveaway
Monday, March 27, 2006 2:56:56 PM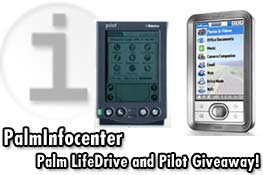 PalmInfocenter is giving away a Palm LifeDrive mobile manager AND a new in box, original Pilot 1000!
To enter the LifeDrive giveaway, members can post a comment to this article. Please share with us the story of how you first got interested in mobile computing or how you obtained your first PDA or Palm device.
The winners will be posted in a PalmInfocenter article and the most interesting story will win a new Palm LifeDrive. Read on for the full details...
†


---
UPDATE 4/11 -
The contest deadline will be extended until the end of Thursday - April 14th while we get caught up on sending out registration email confirmations. Please note that you do not get a confirmation when your enter the contest. This pertains to people that signed up for new PalmInfocenter accounts and did not recieve the account validation confirmation email.
UPDATE 4/12 - All users that did not recieve a validation email should be able to login with the username/password they created.
UPDATE 5/3 - Apologies for the delay. The contest winners will be announced on the homepage by early next week (May 8th).
---
To enter to win a Pilot 1000, check out the contest details in our forum. Post a picture of your PDA collection or current handheld device in action for a chance to win a brand new Pilot 1000 handheld. One person will be randomly selected to win from all photos submitted.
For your best shot at winning, please share an original, unique and/or entertaining story. The winner of the Pilot 1000 giveaway will be chosen at random from all pictures posted in the forum contest thread. The top 5 stories (as judged by PalmInfocenter staff) and photos will be posted in a PalmInfocenter article.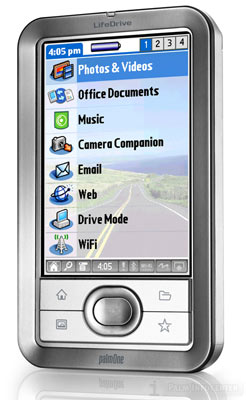 Official Rules & Details
In order to be eligible entries must be received no later than 11:59 pm PST on April 6, 2006.
UPDATE: The contests have been extended. The cutoff time is now April 17th 11:59 PM PST.
Both contests are open to all PalmInfocenter members worldwide. Free registration is required to post a comment or forum item.
All entries must be submitted in the name of an individual person and the prize can only be awarded to the person whose name is on the winning entry. Comments can be posted in any language, however only English stories will be qualified and judged.
Limit one (1) entry in each contest per person. Members are permitted to enter both the LifeDrive and Pilot contest by placing one (1) post per person in each section. Multiple entries for the same contest drawing will result in disqualification from this and any future contests. Entries found generated by scripts or automated means will be void.
Winners will be contacted via email, so please be sure to have a current and valid email address on file or submit with entry. If the winner does not respond within 48 hours via email, prizes will be awarded to the next eligible entrant. Email addresses will not be sold, spam'd or shared for any reason. Winners will be announced on the week of April 10th.
LifeDrive and Pilot 1000 provided by Palm Inc.
Further reading:
- Palm LifeDrive Review
- Pilot 1000 Retrospective
- Palm Celebrates 10-year Anniversary of the Pilot
Article Comments
(242 comments)
The following comments are owned by whoever posted them. PalmInfocenter is not responsible for them in any way.
Please Login or register here to add your comments.

Comments Closed
This article is no longer accepting new comments.

Only the first 50 comments are displayed within the article.
Click here for the full story discussion page...