EMEA Q1 2006 Smartphone Report
Wednesday, May 3, 2006 11:36:36 AM
Canalys has released their Q1 2006 smart mobile device research report for the EMEA (Europe, Middle East & Africa) markets. Western Europe shipments fell slightly, but Eastern Europe, Middle East & Africa growth more than doubled. Read on for the full report...
EMEA shipments of smart mobile devices up 25% year-on-year in Q1 2006
But Western Europe declines 10% while CEMA region grows 112%
Handheld shipments fall 15% as GPS navigation buyers continue migration to dedicated devices
Converged devices up 34%, leader Nokia increases share despite E-series delays
Second-placed RIM enjoys BlackBerry device growth of around twice the market average
Following recent news that quarterly shipments of smart mobile devices in the APAC (Asia-Pacific) region have overtaken those in EMEA (Europe, Middle East & Africa) for the first time, Canalys today released more detail on the EMEA market and highlighted the contrast between the situation in the more mature Western European markets and the fast-growing emerging countries within the CEMA (Central & Eastern Europe, Middle East & Africa) region.
Despite delays in the release of its enterprise-focused E-series smart phones Nokia not only retained its comfortable lead in EMEA in Q1 2006, but increased its market share to 76% from the 67% it had in the same quarter one year ago, according to the Canalys estimates. Both Nokia and second-placed RIM increased their respective device shipments above the market average of 25%. Qtek (the brand used by HTC on its own devices in EMEA) posted the highest growth among the top five vendors, its 211% rise taking it just above HP and Palm for the first time and so making it the leading Windows Mobile vendor in the quarter. HP and Palm, along with several others, are feeling the effects of the decline in the handheld market, which their converged device volumes are not yet high enough to completely offset.
"The booming market for handheld-based GPS navigation solutions in Western Europe provided a tremendous boost to vendors over the past couple of years, but this has moved rapidly to demand for dedicated 'transferable' devices and the vendors that don't play in this area are missing out," said Chris Jones, Canalys principal analyst and director. "But we are still at an early stage in what will become a huge and sustainable industry. More changes and new opportunities for device vendors and service providers across various categories will emerge over the coming quarters. Increased GPS integration in mobile phones and tighter communication between navigation systems and enterprise databases, such as contacts, calendaring and CRM, are just a couple of examples of areas that smart mobile device vendors will be exploring."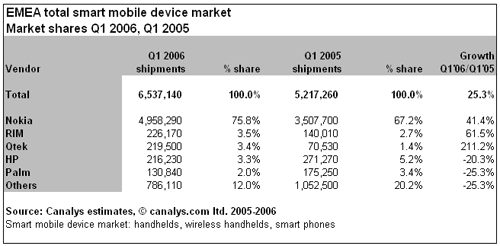 The 15% decline in the handheld segment in EMEA is also partly due to the increasing shift toward converged devices, with real-time e-mail becoming the first critical application, after voice, for enterprise customers. Shipments of converged devices in EMEA rose 34% year-on-year, with the top five vendors in this area (Nokia, RIM, Qtek, i-mate and HP) all growing by 25% or more. In acknowledgement of how important the market for mobile e-mail is becoming, in addition to tracking the devices, Canalys has launched a new service – "Mobile Messaging Analysis EMEA" – focused on monitoring the performance of the leading mobile e-mail solution providers, the issues facing vendors and operators in such a fragmented market and how adoption by consumers and enterprises is developing.
Many industries would be more than happy with year-on-year growth of 25%, but this represents quite a slowdown compared to what smart mobile device vendors in EMEA are used to. For example, growth in Q4 2005 was 60%, and in Q3 2005 a tremendous 117%. Having recently expanded its research to provide more detail on countries within the CEMA region, Canalys can now reveal the extent to which these emerging markets are contributing to the overall EMEA growth and hence how important they are becoming for vendors.
"Smart mobile device shipments in Q1 fell 10% year-on-year in Western Europe," said Canalys research analyst Nick Spencer, "But growth for EMEA was achieved by rises of 76% in South Africa, 128% in Poland, 101% in Russia, and with markets such as Saudi Arabia, Turkey and the UAE almost doubling. A year ago Western Europe accounted for more than 70% of all smart mobile device shipments in EMEA. In the first quarter of this year it was just over 50%. The vast majority of the devices shipping in CEMA, as elsewhere in Europe, are Nokia S60 smart phones, but vendors such as Mio Technology, Motorola, Orange, Qtek and RIM are all enjoying year-on-year growth in excess of 200% there, albeit from fairly small bases."
Source: Canalys Research Report
Article Comments
(10 comments)
The following comments are owned by whoever posted them. PalmInfocenter is not responsible for them in any way.
Please Login or register here to add your comments.