Palm and Treo 2006 World Cup Guides
Wednesday, May 17, 2006 12:12:16 PM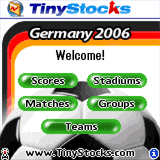 There are a number of Football guides for Palm OS devices and the Treo for the upcoming 2006 FIFA World Cup Germany.
TinyStocks has made available a free guide for Palm OS called WCup 2006. You can lookup what games are played on which days and what games are played at each of the 12 stadiums. Check when and who each team is playing and add an alarm in your Datebook to be reminded of the games. With WCup 2006 you can also download the latest scores wirelessly using a Treo or Internet connected handheld and see which teams will make it to the next round. It is available in English, French, German, Spanish, Italian, Portuguese and Dutch.
World Cup Mobile
"World Cup Mobile" created as a joint venture of Resco and Envi.con, provides online coverage of the Football World Cup in Germany as well as interesting materials about the World Cup history. "World Cup Mobile" offers match results, standings, World Cup statistics and news 24 hours a day. Football fans can view team rosters, stadium portraits and rich historical material supplemented with illustrative images. A detailed game description will follow each match.
"World Cup Mobile" works with Windows Mobile, Palm OS or Symbian (Series 60) devices. The latest version costs EUR 14.95 and can be found here.
Windows Mobile - Treo 700w Guides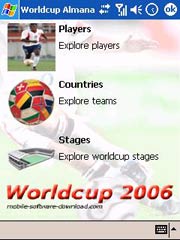 World cup Almanac & Match plan 2006 for Pocket PC is one option for Treo 700w users. It features data and photos on all players, matches and stadiums as well as a tournament tracker. It sells for $4.99 USD (3,97 EUR).
mySoccer 2006 is another option for Pocket PC and the Treo 700w. mySoccer supports live update via the Internet. If you have a net connection you can get the live results through a GRPS or UMTS connection. It includes info on all games with additional information and local time tracking and a overview that shows the current status of the cup tournament. It sells for $15.00 USD (11,93 EUR).
2006 FIFA World Cup Finals are scheduled to take place in Germany between 9 June and 9 July 2006.
Article Comments
(4 comments)
The following comments are owned by whoever posted them. PalmInfocenter is not responsible for them in any way.
Please Login or register here to add your comments.