Treo 650 Ranks High on SAR Report
Wednesday, May 31, 2006 2:00:12 PM
CNET has released a list of the top ten highest-radiation mobile phones in the US. The GSM version of the Palm Treo 650 ranks in the top 10 with a Specific Absorption Rate (SAR) of 1.51 W/kg. The FCC limit for public exposure from cellular telephones is a SAR level of 1.6 watts per kilogram.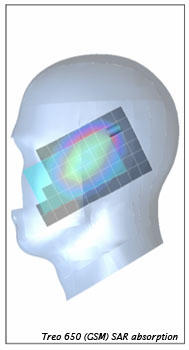 SAR is a value that corresponds to the relative amount of RF energy absorbed in the head of a user of a wireless handset. The FCC has further information about SAR rates and cell phone radio frequency safety. The FCC is required by the National Environmental Policy Act of 1969 to evaluate the effect of emissions from FCC-regulated transmitters on the quality of the human environment. Detailed SAR reports for any US released cell phone can be found in the FCC's public records.
The Top 10 list of the highest SAR US cell phones can be found here, CNET also put together a list of the 10 lowest SAR handsets.
You can find the detailed GSM Treo 650 SAR report at the FCC under the FCC ID: O8FCAGEMS.
The Treo 700p's SAR reports and other FCC data is also now available online under FCC ID: O8F93001. The 700p uses a CDMA wireless radio and scores only a slightly lower SAR rating.
Thanks to LegoDude522 for the tip
Article Comments
(41 comments)
The following comments are owned by whoever posted them. PalmInfocenter is not responsible for them in any way.
Please Login or register here to add your comments.