Palm Releases Asia-Pacific Treo 680 SMS Updater
Sunday, August 19, 2007 8:58:28 AM
Palm has released a new update for the SMS software of the unlocked Treo 680s in the Asia-Pacific region. Palm Australia's Support page states:
"The Treo 680 Unlocked GSM smartphone SMS Update improves SMS message handling for certain message types."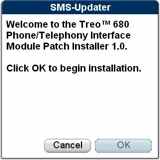 This update is intended for users of Treo 680s running the Treo680-1.04-ROW or Treo680-1.05-APR software, which can be checked in the Phone application via the 'Phone Info' menu. The update can be installed via a Windows/Mac download, an automatic SD installer or over-the-air directly to your Treo.
Palm's Philippines, Malaysian and Singaporean sites are also offering the update on their respective pages.
Leave a comment...

Click on the
Start New Comment button
below to begin a discussion.
You must be
registered
and
logged in
to add comments.