TAKEphONE v7.50 Released
Wednesday, August 15, 2007 10:25:56 AM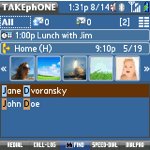 ShSh Software has announced the release of TAKEphONE v7.50. TAKEphONE is a telephony & contact management application, designed to simplify and enhance using your contacts and making calls. It also sports enhanced search capabilities, as well as telephony features, such as call-cards support, extra digits dialing on all contacts, and much more. New features include full support for the Treo 755p/680, a new i-bar photo dialer on the main screen, Internet phone number search, improved security features and the ability to save call-log entries into a daily journal.
TAKEphONE v7.50 is available for $19.95, it is currently on sale for $16.95 in the PIC store. The upgrade is free for registered users, simply install the new version via the free trial.
Leave a comment...

Click on the
Start New Comment button
below to begin a discussion.
You must be
registered
and
logged in
to add comments.