iambic Releases YourCall v2.0
Tuesday, August 14, 2007 1:44:02 PM
iambic has released YourCall version 2.0 for Palm OS, a comprehensive, multifaceted solution for Treo call management. It was created to help Treo owners, whether casual users or business professionals, proactively handle all aspects of the mobile communications process. It is a tool that can capture your post-call dialogue and offers a variety of useful follow-up actions you can take after you hang up. It simplifies the steps you take to return calls, add contacts, schedule meetings, tasks, memos, e-mails, and SMS linked to your last telephone conversation by automating excess start-up steps.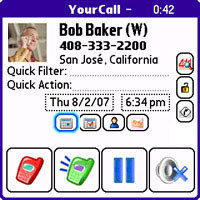 YourCall provides a selection of actions that can be taken before, during and after a call. For example, YourCall's "Auto Actions" feature lets users set up ahead of time, what type of action will take place when a call is received. During a call, a user can tap into Phone Number 411 Lookup via Google SMS, to get more information about the caller. Plus, meetings and To Dos can be created on the spot, without having to wait until the call is over. After hanging up, while the information is still fresh, YourCall 2.0 prompts for such post-call activities as jotting down notes or creating a journal entry, setting up meetings, generating To Dos, or even placing a call to another contact to pass on information.
YourCall also serves as a "behind the scenes" time-billing assistant that can help busy professionals keep track of call details such as date, start time and duration automatically.
"We are very excited about what YourCall 2.0 for Palm OS enables users to accomplish," said Adriano Chiaretta, "The way we see it, the disruptive nature of phone calls will be a thing of the past. YourCall lets Treo users get more done, immediately, so that by the time the call is over, or shortly thereafter, they can easily move on to the next thing."
Some new features included in YourCall for Palm OS, version 2.0 include:
The "Auto Actions" capability, which enables YourCall to automatically take action when a call comes in. Auto Actions include meeting creation, contact logging, journal logging, call rejection with voicemail redirection, call pickup and hang-up, and post call dialog bypass.
The Incoming Call Management Dialog Screen which now includes Photo Caller ID, City-level location information, Block Caller, Ignore with Text and Quick Select & Ignore with Text capabilities.
The On-Call Management Dialog Screen, which in addition to the basic functionalities, now also brings in Photo Caller ID, Quick Contact / Task / Appointment lookup, On-The-Fly Contact / Task Appointment creation and linking, Address Mapping, and phone number 411 lookup via Google SMS.
The ability to set "Ignore times" during certain hours and/or days of the week has been added, which enables users to automatically ignore all calls that come in during these specified times.
YourCall v2.0 is available now with a free trial period. It is compatible with the Treo 650, Treo 680, Treo 700p, Treo 755p. The Professional edition, that takes the entire call experience (before, during and after) to a higher level, is $19.95. The Standard edition, which is focused on post call activities, is $14.95.
Article Comments
(1 comment)
The following comments are owned by whoever posted them. PalmInfocenter is not responsible for them in any way.
Please Login or register here to add your comments.