FontSmoother v2.1 Released
Friday, August 3, 2007 7:31:14 AM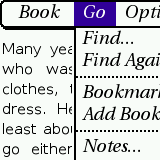 Alex Pruss software has released FontSmoother 2.1 for Palm OS. FontSmoother enables you to display smoother looking (antialiased) custom fonts. It works across almost all applications on your hi-res Palm OS 5 device. It includes a number of free fonts and you can convert your own Windows TrueType fonts with the free EasyConvert utility. Version 2.1 includes a number of reliability enhancements and a number of bug fixes, especially on Treo devices.
FontSmoother sells for $12.95 USD. There is a free trial period, after which all smooth fonts default to their non-smooth versions until registration is completed.
Leave a comment...

Click on the
Start New Comment button
below to begin a discussion.
You must be
registered
and
logged in
to add comments.