Sandisk Releases Ducati High-Speed SDHC Plus Cards
Thursday, July 19, 2007 7:44:47 PM
Owners of Treo 680s and the 700p with the 1.10 ROM update have a new reason to celebrate. Despite the presence of integrated SDHC support (4GB officially and 8GB unofficially) on these Treos, few desktop or laptop PCs are compatible with SDHC cards without requiring the user to carry along a cumbersome USB, PC Card or Express Card reader. Thanks to the latest (albeit pricey) release from Sandisk, itís possible to combine a 4GB high-speed SDHC card with an integrated USB plug. This enables the card to be inserted into any PC with a standard USB port allowing files to be written to or read from the card with the need of any additional drivers, software, or clunky external adapters.
Sandiskís release is notable indeed for being the first SDHC card to date from any manufacturer with an integrated USB port. With industry support lagging in regards to adding SDHC support to the card slots of PCs and printers, this is certain to be welcome news for users requiring more than the 2GB afforded by conventional SD media but concerned about the inconvenience factor of SDHC cards.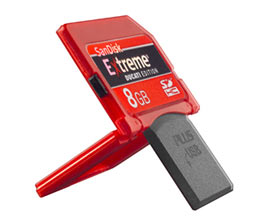 Sandiskís original SD Plus cards combined 512MB to 2GB of storage in a high-speed Ultra II SD 1.1 card with an integrated USB port. Now Sandisk has sidestepped the Ultra II moniker and unleashed the first Extreme-branded SD Plus cards in their new collaborative marketing effort with noted Italian motorcycle maker Ducati. Reminiscent of other automotive co-branded efforts (LaCieís Porsche-designed external hard drives, Acerís successful Ferrari line of PCs and LCDs or the newer Asus Lamborghini notebooks), Sandisk dresses up their Ducati in a slick red color scheme and then throws in performance figures to match their aesthetics.
The 4GB Ducati Extreme SDHC Plus card features read & write speeds of 20 mb/s, well in excess of the SDHC formatís highest Class 6 rating of a 6MB/s minimum.
Also announced alongside the SDHC card are Ducati-branded Extreme CompactFlash cards in 4GB and 8GB capacities touting 45MB/s speeds, so prospective Foleo owners may want to take note at these ultimate CF cards that could reside in their new devicesí internal CF slot. Sandisk is also releasing a 4GB Ducati-branded Extreme USB thumbdrive with an MSRP of $124.99.
Apart from faster speeds, SanDisk Extreme cards also are highly durable and can resist extremes of temperature, from well below freezing (minus 13 degrees Fahrenheit or minus 25 degrees Celsius) to near boiling (185 F/85C)*3. Both of the SanDisk Extreme Ducati Edition cards come with RescuePROas Deluxe recovery software CD, enabling users to retrieve accidentally deleted images or files.
Initially, the cards will be available throughout North America and Europe beginning in August. The MSRP for the new Ducati Sandisk cards are $164.99 for the 4GB CompactFlash card, $314.99 for the 8GB CompactFlash card and $129.99 for the 4GB SD Plus card, which is actually $10 less than the MSRP of the older, slower, and far less versatile Extreme III SDHC card.
Article Comments
(11 comments)
The following comments are owned by whoever posted them. PalmInfocenter is not responsible for them in any way.
Please Login or register here to add your comments.