Seidio Treo 700 Replacement Battery Cover Review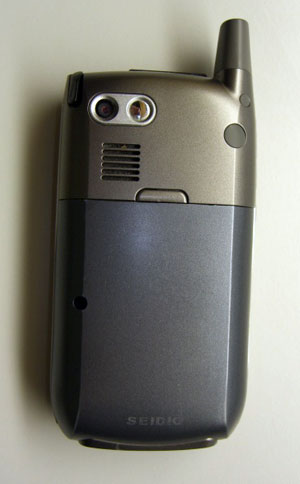 by: Kris Keilhack
August 17, 2006
Resets are an unfortunate inevitability of the mobile computing experience, especially on devices running Windows Mobile or Palm OSes. Palm's own devices have actually become more reset-friendly over the past year by adding larger, easily accessible reset buttons. One disadvantage of the Treo line's removable battery design is that the battery door must be removed to reset the device. Here's a product designed to address that minor but irritating oversight.
Overview
Seidio's nifty aftermarket battery covers permit Treo owners to reset their devices without having to open up the Treo and potentially drop the battery. It also makes a good replacement for a broken OEM battery door.
Styling & Availability I ordered my battery cover from seidio.com the day after I received my Treo 700p. The item costs $9.95 + shipping. There are also versions available for the 650 and 700w at the PIC store.
At the time of my purchase in June only one color (a dark blue) was offered, which I think is for the Sprint version of the 700p. Now it appears that both a Sprint and a darker Verizon version of the door. At any rate I am happy with the blue cover since it helps differentiate my Treo from the other three 700p's my coworkers and colleagues carry.
A www.seidio.com logo is silkscreened onto the bottom of the cover and begins wearing down as soon as it makes contact with sweaty hands.
Packaging
Seidio ships their cover in a plastic baggie within a cardboard shipping box, befitting the product's budget pricetag. Hint for Verizon & Sprint: sell this thing in fancier packaging with your own logo on it for $20 at your retail stores and make a killing!
Design & Construction
One of my initial Treo 700p complaints was that the rear of the phone felt a bit wobbly. I am glad to report that this new cover, combined with the slightly thicker Seidio 2400mAh replacement battery makes for a very solid feeling Treo! The Seidio cover is a bit trickier to position on the unit than the stock battery cover but the extra tightness is appreciated.
Seidio's replacement door is also a tad less slick than the stock Palm cover. This adds a slight bit of security to those who prefer to carry their Treos "naked". I'd still love to see a rubberized version of this door in black like the Black Tie Treo 650!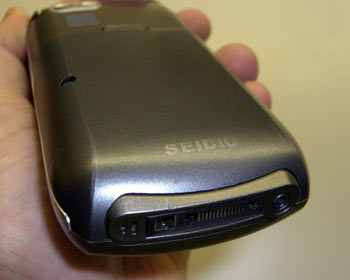 The opening in the door lines up perfectly with the reset button in the Treo. No problems whatsoever activating it with several different Treo styli.
Pros:
-Affordably priced
-Two different colors available
-Adds rigidity to the Treo's casing
-Stylus tip opening makes resets much more convenient
-Slightly more textured feel than stock cover for better grip
Cons:
-Only available via mail-order
-No rubberized version available
Conclusion
Seidio impresses once again with the small stuff! This is as close to an essential purchase as any Treo 700-series owner can make. A black rubberized version of this cover would make it absolutely perfect! As is, it's pretty darn close to perfection.
My overall rating:    

4 / 5
Article Comments
(13 comments)
The following comments are owned by whoever posted them. PalmInfocenter is not responsible for them in any way.
Please Login or register here to add your comments.