Access Linux Platform at LinuxWorld SF
Sunday, August 20, 2006 3:43:45 PM
David Beers was in attendance at LinuxWorld San Francisco where PalmSource was exhibiting the Access Linux Platform. PalmSource also held a full day of hands-on tutorials in which they built and debugged native applications for mobile Linux. In this article David brings us up to date on ALP, its progress and other details on and what was being presented about ALP at LinuxWorld. Read on for the full report.
Access Linux Platform at LinuxWorld SF
by:
David Beers
August 20, 2006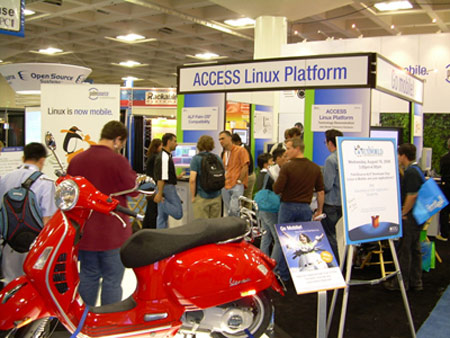 PalmSource and parent company ACCESS were a major presence at LinuxWorld in San Francisco this past week. While other mobile Linux vendors like TrollTech and a la Mobile had announcements about upcoming reference handsets for developers or new Linux phone platforms, PalmSource was the only one to demonstrate their new operating system on real handsets. They were also the only one to give developers a full day of hands-on tutorials in which they built and debugged native applications for mobile Linux. The three PalmSource Developer Day sessions were well attended with standing room only at times, and the demos phones, reference board, and developer tools all showing the ACCESS Linux Platform (ALP) drew crowds on the expo hall floor of the conference.
ALP is still a work in progress. PalmSource reports that it is on schedule to meet its end of year deadline for delivery to licensees. But the difference between what was demonstrated this week and the ALP of six months ago is pretty dramatic. The crude demo launcher from the February 3GSM conference has been replaced with a tastefully themed launcher that presents not only Palm OS Garnet and native GTK applications, but also applications written against PalmSource's new MAX framework. MAX stands for "Mobile Application eXperience" and PalmSource has contributed new widgets to the Gnome Toolkit (GTK) to enable the kind experience that Palm OS users have come to expect--as well as some new ones focused on the smartphone user experience. Native MAX PIM applications that use these controls and other advances are now on display. HotSync has been rewritten to be compliant with OMA standards and Internet-compatible for synchronization and backups via WiFi or wide-area network. And, importantly, there is a complete suite of developer tools now. Based on the familiar Eclipse development environment and other open source tools that PalmSource has optimized, these performed without a hitch for around 50 developers during a three-hour cycle of GUI design, coding, and debugging. (More on the developer sessions in a later article.)
Unfortunately, while attendees were free to try out the Haier N60 flip-phones running ALP in the PalmSource pavilion, PalmSource was very strict in forbidding pictures of the handsets or reference board. The shots I was able to take are of applications running in the ALP simulator on the Linux laptop that PalmSource provided for use during the Developer Day sessions. These images show screens that are similar, but not exactly like what LinuxWorld attendees saw on the Haier handsets.
I was told that the Haier demo phones have specs that are typical of the kind of handset that PalmSource has in mind as a primary target device: QVGA (240 x 320) screen resolution, a standard phone keypad, and preferably a touchscreen. While ALP is designed to work well with non-touchscreen phones, Palm OS applications that lack full support for the five-way navigator will require touchscreens, as presumably will smartphones intended for Asian languages that are better supported by handwriting recognition than a keypad. The reference board that was on display had what appeared to be a VGA (480 x 640) screen and a full alphanumeric keyboard to show the range of hardware configurations that are possible.
Naturally, the first thing you see of ALP is the launcher. My reaction was that it looked a lot like Palm OS: a grid of icons that could be tapped with a stylus or finger, or highlighted and selected using the five-way navigator, much like on a Palm OS Treo. On the small Haier handsets there was room for nine icons at a time--the large-screen reference board and desktop simulator appeared to have room for as many as twenty. The most obvious difference from the Palm OS was the color: a bold blue graphical background image with white fonts and icons that were highlighted in a gold border when they received focus during navigation. The colors, backgrounds, borders, and controls in all the MAX applications running on the device were rendered in the same theme, creating a consistent look and feel throughout. In the developer sessions I learned that these themes are developed using scalable vector graphics so that they can scale naturally to different screen resolutions. PalmSource expects that these themes will be an area where the wireless carriers will create a branded experience, but it appears to be an opportunity for user customization as well. I wasn't able to ascertain whether "skinning" your phone with third party themes will be an option, but it seems likely.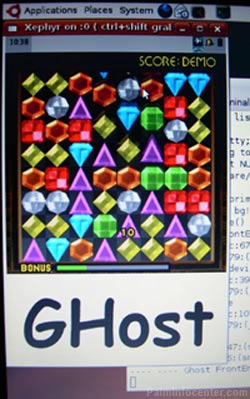 No matter which of the four supported APIs an application is written against in ALP (Palm OS Garnet, Java, GTK+ or MAX) their icons are displayed in the same screen, so initially it is transparent to the user how a particular application was developed. But when launching a Garnet application you see the Palm logo for a second or two before the application launches: it's the same splashscreen you see after a soft reset on a Palm device. Most Palm applications that are not designed to handle QVGA resolution, and these display in a square format with a black area at the bottom of the screen. This raises two questions: will there be Palm OS APIs to better support full-screen QVGA applications, and could the 80 x 240 area at the bottom of the screen be used for a handwriting input area? As far as I was able to see, Graffiti, a key component of the Palm OS, is absent from ALP at this time.
PalmSource had a Compatibility Station where Palm developers could try out their applications running in ALP's built-in Palm OS emulator. The applications I brought for testing as well as those of the two other Palm developers I spoke with ran perfectly in the emulator. About two thirds of the developers in the Developer Day sessions were Palm developers.
One of the most important new capabilities that ALP adds over the Palm OS is multitasking. Thanks to its modern Linux architecture, ALP is fully capable of running multiple applications concurrently. But PalmSource has wisely left it to the judgment of developers to decide whether their applications provide value running in a background thread. Unless specifically written to run in the background after another application is launched, ALP applications will exit and free up memory just as Palm OS applications currently do. This contrasts with Windows Mobile and Symbian systems where the default behavior is to leave every application in memory after the user closes it and launches another.
Many applications will benefit greatly from being able to run in the background, playing music, downloading email, or listening to a network for incoming data. Such applications have access to the screen even when they run in the background. For example, an email client can pop up a small window reporting the arrival of a new email. This window could display over a browser window, for example, while the browser continues to render a web page. ALP also provides an option for background applications to contribute icons to a status bar, which runs across the top of the screen. I was able to play an MP3, launch another application, and then bring up a mini control panel for the music player by tapping on the player's icon in the status bar. I could adjust the music and close the control panel without ever exiting the other application. On a small screen the status bar is scarce, prime real estate, of course, and PalmSource expects that the wireless carriers will jealously reserve access to it from their own built-in applications and services. But even if third party developers are restricted from contributing to the status bar, I was told that ALP will have APIs enabling developers to create task-switcher applications that deliver similar functionality.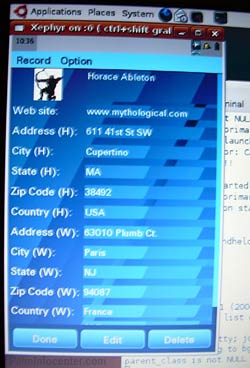 A quick look at ALP's PIM applications revealed screens that bore more than a passing resemblance to their Palm OS forebears. Performance was snappy on the Haier's 400MHz processor, but these still felt like "work in progress" to me, lacking some polish and features. Lots of applications were missing from the demos: the Phone application, email and messaging clients, notes and to-do, and the camera application, for example. Still, it's not too surprising that the platform had to be substantially complete before the applications that ride on top of it could be fully developed. Keep in mind in looking at these images that the background image, the fonts, the buttons, are all determined by a theme that can be configured at the system level. Also that the simulator exhibits a larger screen than most phones probably will. When you get a real ALP phone in your hand you can expect it to look quite a bit different from what you see here.
ACCESS continues to keep its NetFront browser on the forefront of advanced mobile browsers and even on the demo handsets I was impressed with what I saw. I'm not familiar with NetFront's current capabilities on other platforms, but on ALP it now has a thumbnail view of your bookmarks that makes navigating to favorite sites easy to do at a glance. One of the PalmSource engineers confided that this feature would be extended to the browser's history stack so that you can navigate forward and backward through the history of a surfing session without having to load each page as you go. This is one of the features that users have cited as making Nokia's new S60 browser one of the best for mobile devices, so NetFront is staying competitive.
Overall, I was impressed with the progress on ALP and happy to see it in the flesh. A lot of questions remain to be answered about how it will evolve between now and the end of the year. And then there is the question that is on every Palm user's mind: will we see ALP on future devices from Palm Inc? PalmSource officials were, as usual, "unable to comment on the plans of their licensees." But I came away thinking that at this stage in its development at least, ALP does indeed look very much like a successor to the Palm OS--quite frankly, more so than I expected it to. Whatever negotiations and discussions are taking place between Palm and ACCESS as I write this, it seems that Palm could do a lot worse than dub ALP--perhaps in a customized form--as the official next-generation of the Palm OS.
---
David Beers owns Pikesoft Mobile Computing which specializes in custom software development for Palm OS, Windows Mobile, and Java devices. He posts his thoughts on mobile technology and software development at his blog, Software Everywhere.
Article Comments
(133 comments)
The following comments are owned by whoever posted them. PalmInfocenter is not responsible for them in any way.
Please Login or register here to add your comments.

Only the first 50 comments are displayed within the article.
Click here for the full story discussion page...