Quickies: New Games, Updates and More
Tuesday, November 14, 2006 2:15:46 PM
In this quickies update we take a look at a few new games out for the Palm OS including: Par 72 Golf, Gloop Zero and Cake Mania. We also have updated versions of the ArmZX Spectrum emulator, mVoice and new Merriam-Webster dictionaries.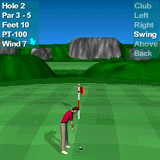 Par 72 Golf For Palm OS
Par 72 Golf is a new golf simulation game for the Palm OS. It features a realistic 3D design with hills, water, sand traps, and sloping greens. You'll also encounter wind, aerodynamics, gravity, and friction as you make you way about the course. The free demo includes one playable hole. The game costs $14.95 to register.
mVoice Updated
mVoice, MotionApp's sleek looking call recorder application for Palm OS devices, recently received an update from 5.0 to 5.0.1. No word on what the update changes but hopefully it addresses some of the issues on the 700p that manifested themselves during heavy-duty testing. mVoice is available for purchae for $24.99. -Kris
Cake Mania Update
Astraware has released an update for their new Cake Mania game. Dated November 10th, version 1.01 of Cake Mania features two graphical improvement updates and some minor bug fixes:
Improved the contrast between the cupcake microwave and the timer
Improved the contrast on the Rose decorator
Minor bug fixes and other improvements
Cake Mania is available for Palm OS devices for $19.95. -Kris
SecureApp v1.0 Released
SecureApp is a robust security application to protect unauthorized users or limit users from running programs and panels on the Palm handheld. If the application or pPanel is in the protected profile authentication is required to run it. All passphrase entries are masked from the public view. SecureApp has the traditional text passphrase entry and a new randomized keypad passphrase entry. Profiles can be created for individuals or groups of users. It comes with a 14 day trial and can be purchased for $9.95.
Merriam-Webster Dictionaries
Paragon Software (SHDD) has released three new mobile editions of world-famous Merriam-Webster's dictionary. Merriam-Webster English-Spanish and Merriam-Webster English-French bidirectional dictionaries as well as Merriam-Webster Medical dictionary are now available for all Palm OS based devices.
Besides the quality of extensive wordbases by such a respected publisher, the dictionary will provide Palm-based devices with the following range of opportunities: Resident short-cut key supplies with translation during reading documents on the PDA without switching to the dictionary, Morphology module helps to find translation of different grammatical forms of the word, Words are supplemented with sound modules, which enables to check correct pronunciation, Special functions such as "Word of the Day" and "Card Quiz" make the studying process more interesting.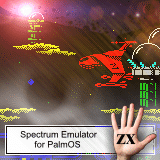 ArmZX v1.5 update
A new version (v1.5) of ArmZX (ZX Spectrum emulator) is now out. Updated in the new version include:
Fixed bugs with keyboard;
Added new "Keys redefinition" menu with posibility to link ZX key to any
Palm keys (now you can use hardware QWERTY keyboard of the Palm Treo);
Added Support of Palm Graffiti area;
Improved fullscreen mode.
New Game - Gloop Zero
Gloop Zero is an original action/strategy game. Endeavor to get a flow of radioactive green, red and blue 'gloop' to the exit points in each level. Featuring over 100 included levels, 3 difficulty levels, over 10 unique items, and a built-in level editor. All illustrated using cartoon-style 2D graphics. Each of the 100 unique levels is playable in each of the 3 difficulty levels (bronze, silver, and gold), for a total challenge of 300 levels. Use items such as the bomb and anti-gravity to help you complete these levels. A fully functional built in-level editor allows you to expand the game for near-infinite replay ability. The game is available for $14.99.
Stressed 2.0


Stressed! v2.0 is a lighthearted, new freeware utility for your Palm OS device from Canuck Software. Created in the spirit of past PC crashing games, stressed allows you to hammer and blast away your frustration with the Palm OS, on the Palm OS! When activated you can select your weapon of choice and start shooting and smashing the screen to demolish the current program complete with stress relieving sound effects.
Leave a comment...

Click on the
Start New Comment button
below to begin a discussion.
You must be
registered
and
logged in
to add comments.