mOcean 3 Review
By:
Tim Carroll
December 28, 2006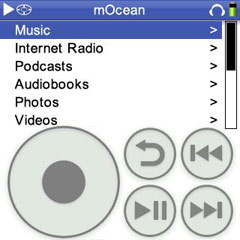 If you can't beat 'em, join 'em. That appears to be the philosophy behind mOcean, a Treo audio player whose interface bears a striking resemblence to a certain Pod I can't quite recall the name of. I believe it's made by a fruit company. This month MotionApps released version 3.0 of mOcean, with several new features including: Internet radio streaming, Live Podcast support, audiobooks, video and photo viewing, visualisers and skins.
Don't Say The "i" Word
If you haven't already been able to tell from the screenshots, mOcean is an iPod clone. And I mean "clone": it's identical right down to the touch-wheel. In a spirited entry for Understatement Of The Year, the mOcean manual notes that it is "similar to many commercial mp3 players on the market." Let's hope they don't get sued by Creative.
You've never used an iPod or seen one in action? Let's go through it then, briefly. Upon launching mOcean, you're presented with a menu. At the top of the heap is Music, followed by Internet Radio, Podcasts, Audiobooks, Photos, Videos, Random Play, Sync, Tips, Settings, Downloading, My mOcean and Now Playing. You "burrow down" through these menus to get to what it is you're looking for, which is represented by an attractive sliding animation.
To navigate the menus, you can use either the 5-way navigator or the on-screen scroll wheel. In a very nice touch, you can also type a few letters and jump to the corresponding menu item, a feature I've been clamoring for in pTunes. But in an irritating oversight, you can't touch-tap menu items nor drag the scrollbar on the side of the page unless you have the interface set to "Classic" mode. To make a selection, tap the centre button on the wheel, or hit Right on the 5-way. To go back through the menus, you press the onscreen back button or Left on the 5-way. The scroll wheel works just like the famous iPod wheel: move your finger/thumb clockwise to scroll down, or counter-clockwise to go back up. It's here we run into mOcean's first major problem...
Spin the Wheel of Fortune, and hope you get lucky
The touchscreen on the Treo is just not as sensitive as the wheel on the iPod. I simply couldn't achieve satisfactory results with the on-screen wheel on any of the three sensitivity settings. There are a few different reasons for that. Firstly, the iPod wheel is located at the bottom of the device, where your thumb naturally rests. It's easy to navigate one-handed, whereas the mOcean wheel is by necessity stuck in the middle and thus is a lot more awkward to spin. Secondly, the mOcean wheel is much smaller than the iPod wheel, which doesn't help matters. Finally, there's a lag between your touch and the on-screen response that makes it difficult to judge when to stop spinning.
It's a far cry from the iPod's instant, smooth reaction. Frequently you'll scroll two or three items past what you meant to select, and the small wheel size makes those small backward steps very difficult. If you're like me, you'll quickly find yourself growing to hate the wheel and just turning it off.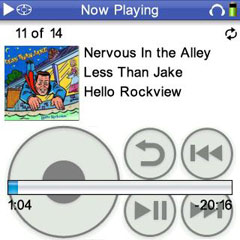 If it comes to that, then you have a few different "Interface Modes" to choose from. My personal preference, Classic mode removes the wheel from the screen completely and leaves you the 5-way navigator and on-screen scrollbar to get around with. This is also the only mode in which you can directly manipulate the scrollbars. Unfortunately, it removes the onscreen playback controls. Wheel mode enlarges the wheel to fill the screen, which solves the aformentioned size problem, but can make it difficult to read the text. The same goes for Vertical mode, which replaces the wheel in favour of a fat vertical scroller on the right-hand side of the screen that presents a new problem: constantly stroking the screen from top to bottom gets tiring for your thumb and still suffers from a laggy response. Finally, you have the default Mini modes, allowing you to place the wheel at the center, left or right side of the screen. Kudos to MotionApps for remembering that left-handers like myself are not just creatures of myth and legend.
On-screen playback controls are accessible on all Interface Modes except classic. Volume is adjusted via the Treo's side buttons or pressing up/down on the 5-way on the Now Playing screen.
Sound--s awes--ome. Shame about the sk--ipping
So, now that the interface is out of the way, we can get down to the meat and bones: how well does it play your music?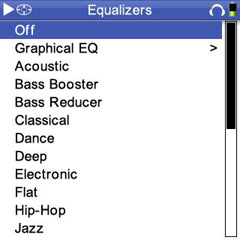 Well, the good news is that mOcean sounds fantastic. Right out of the gate, I could hear the difference between this app and pTunes: instruments are more clearly defined and easier to tell apart. Bass especially sounds cleaner and doesn't bottom out or blend into the background. Even on a budget headset like the Palm Hybrid Headset, it's a noticeable difference and a big tick in its favour.
Even better are the equaliser options: there's 22 different presets built in, meaning less tinkering with fiddly sliders to get that perfect sound. If you do choose to set it yourself, however, you'll find that you can happily crank the various frequencies to the max without any clipping or distortion at all. pTunes take note!
Navigating your song collection is sublimely easy; as mentioned earlier, all you need to do is type a few letters and the correct song will leap out at you. It's almost good enough to negate the pain inflicted by the insensitive scroll wheel.
The bad news? Playback skips and stutters constantly, although not consistently. It'll skip when you navigate some menus; it'll skip in the background when you're switching apps. The problem is most prevalent when the screen is off; here it will skip every 30-60 seconds on almost every song you throw at it. Some particular songs will bring it to its knees: for instance, I have a high-bitrate copy (224kbps) of U2's "Everlasting Love". The opening guitar chords are so choppy as to be unlistenable and it doesn't get much better after that. I tested it on the Treo 680 and 650 with different SD cards and had a similar experience with both. Obviously, this a major flaw and one that needs to be corrected quickly.
Another problem presents itself with the playlist management. As with the iPod, you can flag songs, which adds them to an "On-The-Go" placeholder playlist. Once you've picked your songs, you then have to wade back to the music menu, open the Playlist menu, and save the On-The-Go playlist as a new playlist. Oh, you've changed your mind and want to delete a particular song from the list? Too bad: the delete button is all-or-nothing. You can clear the list, but not individual songs. What's more, the Save and Delete options are listed at the bottom of the On-The-Go list, so if you've flagged a lot of songs then you'll have to rev up that spin finger. This is another area where cloning the iPod Way is not the best choice.
In addition, when browsing by Album, songs are listed alphabetically rather than by track number. The only way you'll be able to view songs in track order is by flagging the album to the On-The-Go list, then sorting it by track number.
One final niggle: there's no way to control playback from another application. If you want to adjust the volume or skip tracks, then you'll have to press the side button to jump back into mOcean. And if you don't want to give up your side button, you're stuck. I recommend McPhling to ease the pain.
Internet Radio (or, Wireless Wireless)
As with the recently released pTunes 4, mOcean comes with a number of Internet radio stations preset and ready to go. I couldn't find any information on what streaming formats it supports, but the various Windows Media streams I tried wouldn't load up. I believe that like pTunes, it is limited to the Shoutcast network, but without the sweetener of pTunes' AAC stream support.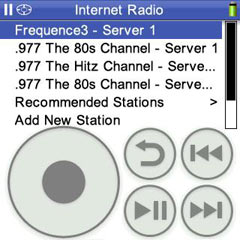 Audio quality is quite good, but again the skipping issue comes to the fore and gets very irritating. I also occasionally had to rebuffer, which didn't happen on pTunes in any of my tests, although it wasn't frequent enough to be a real issue. As always, I'd like to see much broader streaming support present in these applications. Shoutcast is decent but there are many other good stations out there using different technologies.
mOcean also contains links to recommended podcasts and audio books, in addition to the ones you've added youself. It's a nice implementation: files will download in the background and you can set it to auto-update as often as you like. Treo 700p owners with 3G connections should find this especially handy.
Photos & Videos
mOcean can display any pictures or videos that are supported by the Treo's built in Pics & Videos (or Media on the 650) app. It's basically just a different way of navigating them; there are no special options or abilities afforded by viewing these files through mOcean rather than Pics & Videos and the latter has a superior interface for this purpose. However, you may appreciate being able to manage all your media from one program.
iTunes Sync. Sort of
When you download mOcean, it comes with an installer program that will allow you to sync mOcean with iTunes. Well, kinda. Rather than appearing inside the iTunes program like an iPod would, mOcean just pops up a dialogue box asking which iTunes playlists you'd like to synchronize. There's no handy Autofill options or the like. Also, it refused to work for me, claiming there wasn't enough space left on my memory card, although it sure looked like there was a few hundred meg left to me...
Much better news is that it can also present itself to your PC as a USB drive, thus saving you from having to shell out extra money for a third-party program like Mobile Stream's Card Reader or Softick's Card Export. The fastest results, as always, will be gotten by using an SD card reader to copy files directly.
Pimp Your Ocean
mOcean has a good range of options. You have to option to download new skins and visualisations directly to your Treo via the My mOcean menu, although at present the selection is a bit limited. Unlike pTunes, new skins don't completely re-create the interface: the scroll wheel and playback buttons are ever-present. It just changes the font, colours and background to something a bit more pleasing to the eye. I also couldn't find the Visual Effects menu that the manual said would allow me to access my visualisations. It just wasn't there. Anyone got a solution?
Besides the eye candy, there's also a number of different playback options, allowing you to configure your experience to your heart's content. One issue: the Treo appeared to ignore my auto-off preferences, no matter what I set them to.
The Gavel Comes Down
So, all in all, how close does mOcean come to replicating the smooth iPod experience on your Treo? The answer: very close. Too close, as a matter of fact.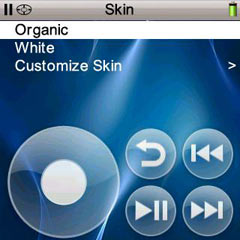 On paper, cloning the iPod sounds like a pretty good idea: the iPod didn't become the world's most popular digital audio player by accident. The sleek, simple and intuitive design had a fair bit to do with it too. However, by sticking so closely to the iPod style, mOcean has handicapped itself with the iPod's user input limitations: the laggy touch wheel and clunky playlist management are but two examples. And I found the skipping issue unforgiveable, particularly when pTunes runs on both my Treos with nary a squeak. Even worse, the free trial doesn't allow you to actually play anything, so there's no way to test out how it fares on your device without ponying up the bucks.
It's definitely not all bad news: mOcean sounds absolutely fantastic and the equaliser works exactly as advertised. It's easy to navigate your music library and the "find-as-you-type" feature means that even the most vast of collections will present no difficulties. The auto-downloading of podcasts is a definite plus. And despite the interface's iPod-induced handicaps, you'll be swimming through mOcean like a pro in no time. If you're looking for better audio quality than that offered by pTunes, or just love the iPod interface style then this is a must-have. And aren't those sliding menus pretty!
Bottom line? Pocket Tunes can rest easy. The crown isn't going anywhere. For now.
mOcean 3 is available from the PIC software store and costs $29.99. There is a free trial available that will allow you to test out the interface, but does not allow audio playback.
Article Comments
(51 comments)
The following comments are owned by whoever posted them. PalmInfocenter is not responsible for them in any way.
Please Login or register here to add your comments.

Only the first 50 comments are displayed within the article.
Click here for the full story discussion page...