Editorial: iPhone or iClone?
By:
Tim Carroll
January 10, 2007
How to define a surprise that isn't? Rumours have been floating around for years, but Apple finally laid them to rest today when they announced the long-awaited iPhone. It's a svelte, sexy little smartphone, with an impressively long spec sheet and unique new gesture-based touch controls, that appears to have ripped more than a few pages out of the Treo's playbook.
So, the big question: how do our beloved Treos stack up against this uber-machine? Is Palm dead and buried? Will this strange rash on my inner thigh go away with the liberal application of moisturising products, or should I try a heavy-duty burn ointment? [note: edit that last sentence out. I don't want to be seen as a shill for moisturising companies] Let's take a blowtorch to the hype. Read on for PIC's in-depth analysis...
Looks: The new gangly iTeen
The iPhone is indeed a gorgeous little unit. It's very thin with a huge 3.5 inch display and an accelerometer that automatically switches from portrait to landscape in one smooth motion. The "first-glance" test blows both the WinMob and PalmOS Treos out of the water: the UI is simply beautiful, with smooth, clear fonts, transparencies and iPod-inherited sliding menus.
The display is 320x480 and has an impressively high pixels-per-inch ratio of 160 - about the same as the Treo, but with more screen real estate. When it comes to brightness, there are two big innovations: firstly, the iPhone has a sensor that detects when it's pushed up against another object - like your head - and accordingly dims the screen and locks the touchscreen. Secondly, there's an ambient light sensor that will adapt the brightness of the screen to your environment, outdoors or indoors - a functionality very similar to the Brightcam app for the Treo, but (one assumes) a much more advanced implementation.
In short, the closest Palm has to competing with this in looks is the dark, rubberised and nice-looking Treo 750. And "nice-looking" is far from "gorgeous". Point to Apple.
Everybody Loves Features. Nobody Loves Bankruptcy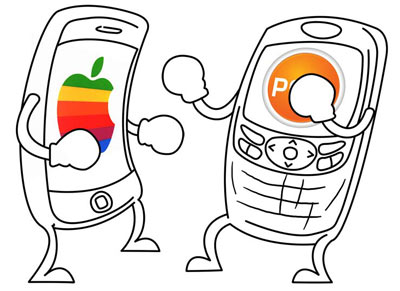 Palm should be embarassed. Apple's debut product has more and better features than the Treo, the market leader! Landscape display: check. Wi-fi: check. Bluetooth 2.0: check. 2 megapixel camera: check. Gigs of internal storage: check. Standard 3.5mm headphone jack: check. In short, the iPhone will have all the features that Treo users have been clamoring for for years.
But this impressive spec sheet comes at a price: $499. Minimum. With contract. If you want an 8GB model then it's $599. A Treo 680 with contract is $199 standard, and you can throw in an 8GB SDHC card for about another $100. So for half the price of the 8GB iPhone, you can get a Treo 680 with the same amount of storage. Even the premium Treo 750 is cheaper.
I give the point to Palm here: Apple's price is exorbitant, no matter the feature set. There's no other word for it. Give it a year or two and I imagine we'll see that number fall a bit, but for now a Treo 680 represents better value for money. And with that spare 2-300 hundred bucks you could buy a seperate camera that puts iPhone to shame.
A Pinch of Web
iPhone's most impressive feature is the fully-loaded Safari web browser. Rather than taking Blazer's on-device optimizing route, or Opera Mini's server-side compression path, iPhone basically gives us a desktop browser with some truly unique features that make it much more feasible for mobile use.
How have Apple gotten around the size limitations of a phone screen? Easy: smart zooming. When you load up a page, it will present it to you as a whole, zoomed out so you can see the entire thing. Think of it as looking down from a blimp. If you double-tap a particular item, it will dynamically zoom in. Say you wanted to look at a picture more closely: tap-tap and it now fills the screen. For manual zooming, you just place two fingers on the screen and pinch them together, or push them apart. It looks great.
Questions still remain: will it support Java applets? Flash? Do we really want real web pages on a tiny screen? Is it going to usable in one hand, like Blazer? I'm guessing not, given that you need two hands for zooming and there's no buttons for quick link-selection or the like. But those are just niggles: this looks truly amazing and should finally provide us with real mobile internet.
Also on the wireless internet front, Apple have seen fit to include WiFi, an area Palm have neglected for years. Given that Cingular will be selling this device, it's amazing that Apple were able to win this concession, given the carrier's obvious reluctance to undercut their own wireless networks. Even more amazing? iPhone will dynamically switch data connections between wifi and cellular networks, depending on what's available.
Point to Apple. Actually, give them two.
iPod On Steroids
We all knew the iPhone was going to incorporate iPod features, but I certainly didn't suspect they were going to soup it up as much they have. The media functionality works exactly the same as any iPod, with a hierarchical sliding menu format, except the much bigger display means navigating your media collection is a bucketload of Easy. But not as easy as a Treo app like mOcean, where you just type a few letters to get what you want. There's an extra sheen of gloss over everything that frankly makes the iPod look like something you'd find fossilised in a cave, next to stone knives and rock carvings.
Also worthy of mention is the video playback: it automatically switches to landscape mode and you can toggle letterbox and pan-and-scan views with a tap. Given the thinness of the device, I'm very skeptical of how this will affect the battery: Apple claims five hours of playback. I simply don't belive it, but I suppose we'll have to take their word for it until we can run some real-world tests. There's no word on which video formats it will support: DivX in particular is a must for any video player to be taken seriously. We'll be keeping our eyes open.
Of course, all your media is synced with iTunes. Say what you will about iTunes (personally, I loathe it), but it's a very well-rounded and simple process and much better than the third-party media solutions we currently have available to us on Palm OS. I've long held that Palm need to integrate media functionality into the Palm Desktop, a similarly intuitive one-stop sync shop. iPhone will hopefully spur them into action, but to be frank iTunes has an enormous head start and I don't see Palm catching up anytime soon.
Point to Apple.
The sincerest form of flattery...
Apple claim to have "revolutionised the phone" with iPhone. It's a load of hogwash; Apple have ripped off the Treo wholesale when it comes to on-screen call controls, Contacts management, Favourites and threaded messaging. Not that this is a bad thing: indeed, more companies could stand to follow Palm's example. But Apple have made a few key blunders, chief of which is the complete absence of physical buttons.
For example, one of the most strident criticisms of the Treo is the difficulty of dialing without looking. Touchscreen buttons provide no feedback and those physical number keys are just a little too fiddly for those with big thumbs. iPhone isn't going to solve your problems here: you're limited to a touchscreen dialpad and that's it. Amusingly, Jobs unintentionally highlighted this problem in his keynote: while telling us how Apple have "revolutionised the phone", he dialed the wrong number.
According to Jobs, Apple want to move us away from dialing the phone number constantly and instead dial via a Contacts search. This is the default on a Treo and again, the physical keyboard puts it streets ahead.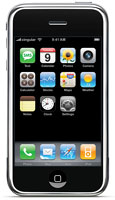 Another issue with the phone is the on-screen End Call button. Palm specifically dropped this from the 680 because people were too often accidentally mashing the button with their ear or other body parts. While Apple's innovative new proximity sensor should alleviate matters, a dedicated button just makes more sense from a usability standpoint.
Call conferencing is just as easy as on a Treo; however, rather than displaying individual Caller ID photos for each conference member, the iPhone has a scrolling text display, which doesn't really work for at-a-glance information.
And then we come to messaging. In short: don't bother. Jobs slowly picked his way through a text message with one finger, and even the much-vaunted predictive text didn't help. You won't be able to gently rest your thumbs, Treo-style, on the virtual keyboard. Instead, you'll have to keep them hovering above the touchscreen and use your thumbtips to hit the keys. I could see it very quickly tiring your thumbs and possibly even causing long-term thumb or wrist injuries.
It's nice to see that Apple have essentially cloned Palm's threaded messaging, and it certainly looks much sleeker and glossier, but its usefulness is quite simply crippled by the virtual keyboard. And as for writing long emails? I'm still laughing at the thought.
Point to Palm. Touchscreens work as a supplement to real buttons, not a replacement. Otherwise, phone, messaging and email functionality are pretty much identical. Hardly a revolution.
A Real OS With Tidget Widgets
Much like the Today Screen plugins available for Windows Mobile Treos, iPhone has a number of widgets available from weather forecasts to stock tickers. These are essentially fluff, but nice to have.
Much bigger news is the fact that iPhone will be running Mac OS X, a UNIX-based desktop operating system with all the features that entails: multitasking, advanced power management, networking, you name it. I imagine developers - Mac developers, especially - are going to be thrilled. This is an extraordinarily impressive achievement and Apple seemed deservedly proud of it.
Questions remain: just how advanced IS the power management? Given the rather pitiful battery life we've seen from fully-featured Linux devices, you'd think that this is not going to be particularly thrifty. And do users really need all the overhead that comes with a desktop OS? How does performance hold up when you're multi-tasking? I noticed some long delays when he was emailing a picture while on a call; the Treo is much snappier here.
No points on either side here. Until power users can sink their teeth into iPhone, I'm not going to call it.
(insert Judgement Day joke here)
Apple claim to have revolutionised the phone with iPhone. Frankly? They're full of crap: the only truly revolutionary iPhone feature is the desktop-style web browsing and media integration: everything else has been stolen from the Treo.
But revolutions aren't required to make a great product, as Palm has ably demonstrated with years of incremental Treo upgrades. And iPhone is indeed a great product: it's absolutely gorgeous and is nearly as intuitive a phone as the Treo. The multitude of sensors makes it one of the smartest devices on the market, the landscape switching is smooth and attractive and the one-stop-sync-shop advantage iTunes brings to the table is very hard to ignore, If Palm aren't feverishly working on upgrading their own syncing software then they're fools and Apple are going to leave them in the dust.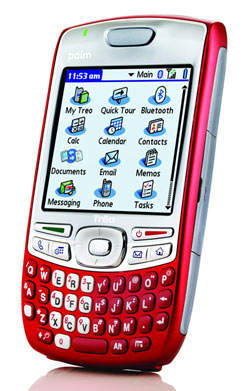 As a portable media player/voice phone, the iPhone looks fantastic. As a true communicator (voice/messaging/email) it is sadly lacking. And that's why I'll be sticking with my Treo. Let's not even mention the exorbitant price point
How Can Palm Compete?
It's really not as Herculean a task as you might think. As we've already noted, the iPhone has essentially cloned the best bits of the Treo and wrapped them up in a prettier package. Palm needs:
1) A media syncing solution that supports ALL formats of video and audio, which will make iPhone's walled-garden format support (I'm assuming it'll be like the iPod) look as artificially limiting as it is.
2) A keyboard-less Treo with a landscape screen.
3) PalmOS needs a visual upgrade. Like, yesterday. iPhone's UI looks gorgeous and puts both Palm OS and Windows Mobile to shame.
4) Wifi, wifi, wifi.
Simple huh? Heck, you could do (1) and (3) right now with a ROM update. Are Palm up to the challenge, or are we about to watch our favourite company get steamrolled? I think they can do it, but they need to move quickly.
Yibada-yibada, that's all folks!
Article Comments
(157 comments)
The following comments are owned by whoever posted them. PalmInfocenter is not responsible for them in any way.
Please Login or register here to add your comments.

Only the first 50 comments are displayed within the article.
Click here for the full story discussion page...