Create Free Treo Ringtones With MiniTones
Thursday, May 3, 2007 10:39:34 AM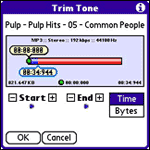 MiniTones is a new mp3 ringtone creator for Palm OS Treo's. This simple and lightweight (55k) freeware app can create custom ring-tones from your own mp3 audio files stored on a memory card.
It has a nifty file splitting feature that lets you define a custom section of a song to use a Treo ringtone instead of the whole song. Once you trim the song down, it will copy the file to main memory and add it to your ringtone sounds list so you can use it however you would like.
MiniTones is free and is currently compatible with the Treo 650, 680 and 700p.
Leave a comment...

Click on the
Start New Comment button
below to begin a discussion.
You must be
registered
and
logged in
to add comments.