Notes from the Foleo Webcast
Wednesday, May 30, 2007 1:34:21 PM

Palm just wrapped up the webcast for the Foleo product introduction. Jeff Hawkins formerly introduced the device, talked about it's development and intended use and revealed some more specs and details about the upcoming Foleo mobile companion.
Read on for some of our notes and more details from the presentation.
Hawkins started the video webcast talking about how the product has been in development for a few years. He says he came up with the idea over five years ago, but it didn't make sense to build at the time as the technology wasn't quite there yet.
The Foleo is primarily targeted towards heavy email users. It is not meant as a Laptop replacement, but more of a large screen, full keyboard companion to your smartphone's capabilities and email functionality. While initially the product is not meant as a Laptop replacement, as time goes on and more developers create unique solutions Hawkins sees its utility as a laptop like device expanding.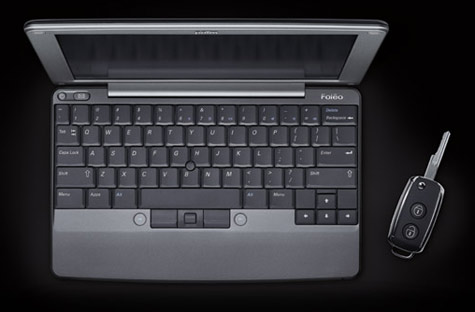 Out of the box the Foleo will support Palm OS and Windows Mobile Treo smartphones. Palm plans to support RIM Blackberry devices, Symbian phones and even the iPhone, should Apple open their platform.
Foleo itself is about the size of a hardcover book. It has a very clean design all around, with smooth lines and a "velvety" texture. The top has small rigged lines to assist when gripping the devices and there is a small array of ports on the bottom of one side. It has dimensions of 10.55" inches wide, 6.67" deep and 0.94" inches thick. It weights 2.4 pounds.
The device opens with one finger and the display hinge latches securely into place. The keyboard has full size 18mm pitch keys and mostly defines the width of the device. The screen is a 10 inch display, with a 1024 x 600 pixel resolution. It does not have a touchscreen. The keyboard has a rubber nub in the middle which controls the mouse pointer. It also has an array of navigational buttons below the spacebar which includes a scroll-wheel.
The outside ports include a power connector, SD card slot, usb port, video out and a 3.5mm headphone jack. There is an additional Compact Flash slot for internal memory expansion as well. The device has solid state flash memory inside, Palm didn't say what amount will be included. It's wireless capabilities include Bluetooth for syncing with smartphones and WiFi for general Internet connectivity.
The Foleo has only two working states of operation: on and off, controlled by the power button. There is no sleep, suspend mode or shutdown. This also allows for instant saving and open and close operation as everything is always stored within the flash memory.
Applications are designed to always take up the full screen. Apps can be opened via an application key, which brings up a pop-up menu and also switches between applications. Pairing a smartphone is a simple four step process. Palm demonstrated the Versamail email client syncing with a Treo 755p, it was also showed opening Word documents, Excel spreadsheets and powerpoint files as attachments. Palm also briefly showed a PDF viewer built from an open-souce application.
The device is powered by a Linux core with a custom Palm graphical interface. The Foleo will be a fully open platform, with Palm encouraging creative third party applications. A SDK was promised to be posted when the product becomes available. Palm OS Garnet compatibility was not discussed at all, which we will follow up more on later.
Besides the Versamail program, Documents to Go and a PDF viewer Hawkins showed the Opera web browser, a Photo viewer and a Linux console. The Opera browser will support Flash, but apparently the processor can't handle Flash video sites such as Youtube. Hawkins remarked he was dissatisfied with this and it would be something they would work on.
When talking about future applications a Palm spokesperson remarked that possible ideas include a Calendar and a direct email program. It does not seem that the device will include a full PIM suite. He also touted the ability to use your connected smartphone as a security proximity sensor. So if the Foleo detected the phone in range, the Foleo would not require a password when opened up.
Palm would not say exactly when the device will begin to become available, but said US availability would begin sometime this summer. It will sell for $599, but will initially be available for $499 with a $100 mail-in rebate.
Article Comments
(172 comments)
The following comments are owned by whoever posted them. PalmInfocenter is not responsible for them in any way.
Please Login or register here to add your comments.

Only the first 50 comments are displayed within the article.
Click here for the full story discussion page...