Treo 500v Launched in Singapore
Thursday, October 11, 2007 10:00:40 AM
Palm today announced the availability of the Treo 500v smartphone in Singapore on the MobileOne network. The Palm Treo 500v runs on the Windows Mobile 6 standard platform and includes high speed 3G/UMTS Internet access.
The Treo 500v, is the first device in Asia to carry the new Vodafone user interface on Windows Mobile 6 Standard edition (formerly WM Smartphone edition). The new device delivers enhanced usability and ease of navigation to customers who want to keep on top of their work and social lives while on the go.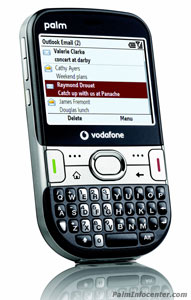 "The Treo 500v is built for today's generation that embraces the Internet as a way of keeping in touch with friends and family, seeking out entertainment and managing their day-to-day lives. We offer users the choice to do what they want, how they want, when they want," said Karthik Srinivasan, Managing Director, Asia Pacific, Palm, Inc. "The Treo 500vís unique interface, combined with the robust Windows Mobile 6 platform, allows us to deliver this winning experience."
"The Treo 500v's sleek design and social-centric functionality, combined with M1's high-speed 3G/UMTS network, deliver a compelling solution to a new generation of customers that enhances their mobile experience," said P. Subramaniam, director of Enterprise and Alliances, M1. "The Treo 500v on the M1 network will appeal to a growing number of customers who are using their mobile devices to keep them in touch on the go, and helps balance work and leisure."
"The new Treo 500v adds a third internet ready Vodafone live! and Microsoft Windows Mobile device to our recently announced Global Handset range," said Jens Schulte-Bockum, Global Terminals Director, Vodafone Group. "When combined with our high-speed 3G/UMTS network and fast access to the internet, along with great browsing and messaging support, we are confident the Palm Treo 500v will appeal to the growing group of consumers looking for the same functionality and ease of use our business customers continue to enjoy from this type of premium device."
Treo 500v Specs
The Treo 500 comes with a full qwerty keyboard and a 240x320 Transflective display with support for 65k colours. It has a tri-band GSM radio supporting the 900/1800/1900 bands and UTMS 2100. It includes 256MB memory with 150MB available for user storage and a microSD expansion slot. It also features a 2 megapixel digital camera and a Bluetooth 2.0 with EDR and stereo headset support. A mini USB port is provides for charging and connectivity as well as a 2.5mm headset jack. A removable 1200mAh battery is present for a claimed 10 day stand-by rating with 4.5 hours of talk time. It has dimensions of 16.5mm (D) x 61.5mm (W) x 110mm (H) (.65" x 2.4" x 4.3" inches) and weighs 120 grams (4.23 ounces).
The Palm Treo 500v smartphone is available now from M1 shops and selected M1 dealers for S$498 (on a two-year plan, inclusive of GST). For a limited period, customers also will receive 6 months of free subscription to M1's 3G SunSurf 10 Plan/VAS (Value Added Service) which is bundled with 5MB of free local data monthly and valued at S$10.70 per month. The Treo 500v also will be available from major retail outlets in Singapore.
Leave a comment...

Click on the
Start New Comment button
below to begin a discussion.
You must be
registered
and
logged in
to add comments.