Android on Palm OS Hardware
Tuesday, September 14, 2010 4:02:33 PM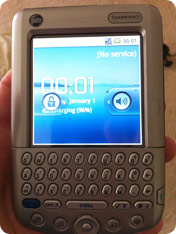 Dmitry Grinberg, famous for his still-on-life-support-as-of-June DGOS Palm OS-compatible OS rewrite, has now managed the substantial task of getting Android installed and semi-functional on Palm OS hardware. Dmitry posted a picture of the Palm Tungsten C, a device originally released in March of 2003, running Android 2.1 on his blog. There appears to be some graphical issues onscreen, likely due to the compression necessary to accommodate the T|C's 320x320 screen, but the results appear more encouraging than the Treo 650 we reported on last year.
The project is a dual-boot SD card-based project for any PXA-based Palm OS device, as most Palm devices would not have enough flash memory (if at all) available to store Android. The SD card containing the OS must remain in the device while the OS is running, so any serious multimedia efforts would be hampered due to the lack of external storage. In a followup post, Dmitry does state that he is attempting "full Android with proper optimizations, in hopes of better performance".
Additionally, Dmirty goes on to say that a combo of a Palm TX + SD card is his main development platform, and the T|C is the only other compatible device at the moment as it requires a full 64MB+ of "real" RAM, though he does mention the T5 and LifeDrive also as other possible candidates. Dmitry states that a fast SD card is a must, due to the limited and slow RAM in Palm OS devices. Right now, there is no Wifi or Bluetooth connectivity nor any audio capability.
Article Comments
(37 comments)
The following comments are owned by whoever posted them. PalmInfocenter is not responsible for them in any way.
Please Login or register here to add your comments.