Windows Mobile 7 Detailed in Presentation Leak
Tuesday, January 08, 2008 6:33:10 AM

Advanced details about Microsoft's next-generation version of Windows Mobile have been leaked on the Inside Microsoft blog. The site appears to have obtained a Microsoft internal briefing document on Windows Mobile 7. The document outlines the major new features coming to WM7 which include a host of new input and interaction methods, a system-wide UI revamp and a new web browser and touch controls.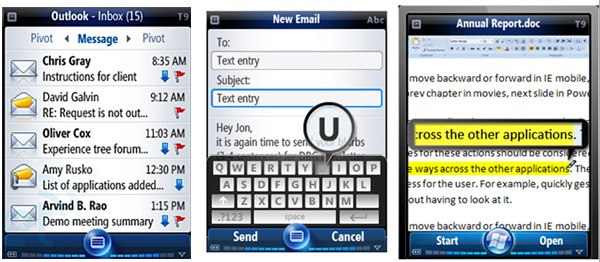 I'll defer to the article for most of the details as it contains a thorough write-up and breakdown of all the new features as well as a ton of screenshots (engadget also has additional pics from the same source). In short, Microsoft plans to add camera and motion based gestures to create a new way to interact with mobile devices. For instance, you will be able to flick through lists, pan, swipe sideway, draw on the screen as well as be able to shake, twist and otherwise manipulate the phone to perform certain actions. Windows Mobile 7 will also place a much stronger emphasis on touch screen based finger controls. FInally, the whole operating system is said to have a more modern Vista-like UI with more animations and visual flair.
The author claims the information is from a document put together in the summer of 2007. Since it is somewhat dated and made for internal use, many of the features and plans could change before it is officially announced. There is currently no word or rumors on when any devices would be made available with a version of Windows Mobile 7.
Article Comments
(6 comments)
The following comments are owned by whoever posted them. PalmInfocenter is not responsible for them in any way.
Please Login or register here to add your comments.