Treo 800w Review - First Impressions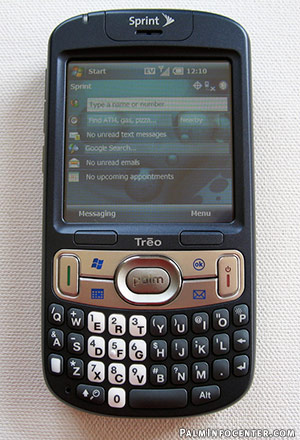 By: Ryan Kairer
July 14, 2008
Update: Our full Palm Treo 800w review has now been published.
The long awaited, oft rumored and much anticipated Wi-Fi equipped Treo 800w has now been officially made official. The Palm Treo 800w debuts today on Sprint for $249 after the usual contracts and rebates. In addition to Wi-Fi technology, the 800w also packs in a number of other significant firsts for Palm including high-speed EvDO Rev A, integrated GPS functionality and the latest version of Windows Mobile 6.1 with a 320 x 320 pixel display.
I've been using the Treo 800w for only a few days and am working on my full detailed review. In the meantime I've put together my first impressions of the device along with some high-res live pictures and tips. Read on for the first part of my Treo 800w review.
Design
The Treo 800w debuts in a slate blue color with a soft touch finish. It continues the standard Treo styling and form factor in a functional straightforward design. The subtle blue hue should appeal to its intended business and professional customers. The exterior grips well and refreshingly does not smudge or pick up fingerprints. While the casing is all plastic, it does have a solid and sturdy feel, much more so than the Centro.
The overall design of the Treo 800w is pretty classy, but if I had one complaint it would no doubt be the thickness. The reduced weight and curved back do a lot to make it more pocket friendly, however the thickness at .7" inches is still quite stodgy, even by last years standards. This may not be as big of an issue for everyone, but if size and style are your primary deciding factors you may likely want to hold off. For most professionals who are used to larger devices and alternative business communicators, the extra functionality and combination of features packed in will make it worth the tradeoff.
The 800w's official dimensions are 2.28" (W) x 4.41" (L) x 0.73" (D); (58 x 112 x 18.5 mm) and it weights 5.0 oz (142 g). The unit itself is actually only a little larger than a Palm Centro and a healthy bit smaller overall than its predecessor the Treo 700w. Users upgrading from a Treo 700 series device will see the most benefit as it is much more compact and nearly 2 ounces lighter compared with that range.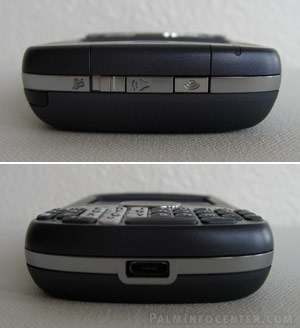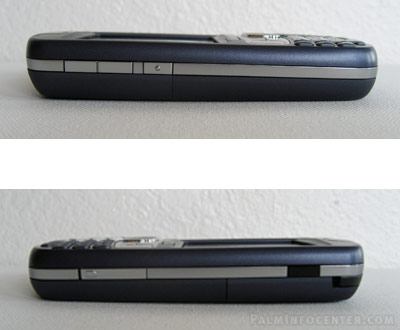 Specs wise, this device nearly has it all. Of course being born in Sunnyvale, there are some things that don't quite measure up, but overall this is the most feature rich smartphone Palm has produced to date. The combination of high speed wireless data, Wi-Fi, GPS, a decently sized screen, quality keyboard and a multi-tasking capable OS make for an extremely productive package.
Wi-Fi
The Wi-Fi wireless works well and doesn't seem to be as big of a power drain that you would expect, largely thanks to Palm's optimizations and the efficient Wi-Fi button. With a simple press of the button you can connect to an open access point or protected networks that you previously defined. Simply holding the button for a few seconds will disconnect you and turn the Wi-Fi radio off. This is defiantly a nicely thought out feature that greatly simplifies and eliminates the complexity of connecting and managing the typical Wi-Fi process. While the EvDO certainly isn't pokey, Wi-Fi when available, is usually a much faster option.
GPS and Mapping Capabilities
The GPS functionality is also a welcome new feature and Palm has taken advantage of it well on this device. GPS signal acquisition times are very fast on average, even indoors, thanks to its AGPS assistance. Even inside my building it could identify my location in under 20-30 seconds. Palm has created a easy to use plugin situated right on the today screen to simplify location based searches. You simply type in a business name or point of interest topic and it will grab your location and give you a list of results nearby your exact location along with contact and directional info. You don't even have to turn on gps or configure a thing, it works very well and pulls down up to date information from the Internet. To get more sophisticated turn by turn, voice guided directions you'll have to purchase the Sprint Navigation package or another third party solution. Google's free Google Maps application for Windows Mobile also works well and supports the gps functionality. (I should point out for laughs that I the 'My Location' feature doesn't seem to be supported on the 800w, however with the gps it's completely unnecessary).

Processor and Memory
In terms of specs and processing speed, this is somewhat of a disappointment. Overall performance is acceptable, however certain functions clearly push the limits of the device and it struggles at times to keep up. The 800w is running a Qualcomm MSM6800A chipset clocked at 333 MHz. While we all know that MHz isn't the only measure of performance, this is just a scant 21 MHz faster than than smartphones that Palm released over four years ago.
There isn't a ton of noticeable system lag, most apps and menu's launch and display quickly, but the device is certainly no rocket. It gets the job done, but intensive operations will take their toll. The biggest slowdowns I experienced so far have been in using the web browser (IE) and reading html email's. Larger full size web pages slow the device down to an unresponsive crawl at times while they load. While certainly annoying, how much of an issue this is may depend on your own personal usage pattern. It just seems frustrating now that the network speed bottleneck has been removed, that the main issue now is the device processor in the case of this device. Perhaps a more efficient web browser or a future rom update could help alleviate some of these issues.
System memory seems generous for a Windows Mobile device. The 800w includes 256MB user memory (about 170MB is available for use), with 128MB program memory that acts as system ram. The microSD card slot that supports cards up to 8GB is conveniently accessible on the side of the device should you need more for your music, photos and videos. With most competing devices these days now measuring their own internal memory in the GB range at similar price points, this is certainly on the lower end of the scale.
Display
With the 800w, Palm's Windows Mobile powered line now equals Palm OS Treos of years past in terms of screen resolution. The 320 x 320 pixel touchscreen is significant improvement over the former 240 x 240 grid of old. Text and graphics are much enhanced. Most curiously, out of the box the option for ClearType is not turned on. The setting (found in: Start - Settings - System - Screen - ClearType) provides for vastly improved, anti-alised systemwide text and should be the first thing new owners enable.
The display quality itself is adequate. It's not terribly bright and I've found I have to set it to at least 80% max brightness just for it to be acceptable even indoors. That said, it does hold up well outdoors and in direct sunlight. The touchscreen is of course very handy and necessary for Windows Mobile Professional. The display itself is plastic and requires more of a push than I'm used to. I've been a little less than pleased with the touchscreen's responsiveness so far. It doesn't always register when I try to use the back of my fingernail or even a finger and the scroll-bars are also a little slim and hard to target with anything other than a stylus. In addition, the included stylus practically bends in your grip just attempting to do basic screen taps due to its poor composition. As you can probably infer, the included stylus is a very slim and plasticly afterthought. Easily one of the worst I've ever used. A proper replacement stylus would be one of the first accessories I would invest in (after an audio adapter).

The keyboard is the usual Treo standard. It really doesn't differ too much from previous incarnations. The only difference I can discern on the 800w is that the keys feel flatter, a bit less pronounced than the 700 series. As far as typing goes this is a good thumb keyboard. As an email and document machine the 800w excels in that regard thanks to the higher resolution and aforementioned thumb board. Palm OS users can enjoy the ironic inclusion of the option to use classic onscreen Graffiti input on the device if they so choose as Microsoft's Block Recognizer is also an option.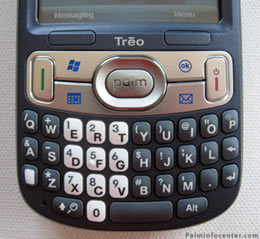 So far I've been enjoying the Treo 800w. There is a lot to like yet also a good amount to nitpick, but when you look at the overall package this is a nice, yet overdue, addition to Palm's smartphone lineup. It certainly lives up to Palm's claims as its most business friendly device to date and offers a lot of compelling features that are integrated quite well.
Some Initial Tips and observations
Enable ClearType! trust us, see above for instructions.
The Internet Search bar uses Windows Live by default, you can go into the 'Today Settings' and enable 'Web Search' which uses Google.
Running Internet Explorer in full screen mode with a smaller zoom setting can offer an improved browsing experience.
The battery is the exact same as the Centro's (1150 mAh) and is identical in size and uses the same connector.
A major downside and huge oversight is that there is no audio adapter included to use standard 3.5mm (or even 2.5mm) stereo headsets. Bluetooth A2DP is there, but still this is a big letdown
The device seems to recharge pretty quickly. I haven't been through a lot of cycles, but the first two seemed to go from near empty to full in a little more than two hours.
Native Office 2007 files seem to take a really long time to create and load, saving as an alternate format eliminates this issue.
Holding down the "OK" button in any app will bring up the task manager, which lets you easily jump to any open app or close running processes.
StyleTap (a Palm OS emulator) works well on the device, especially since the display resolution allows for a more native feel. However in our tests most apps tend to run a little slow, but for Palm OS holdouts, it may prove useful.
Bluetooth DUN and USB sharing work out of the box on Windows Machines.
The Treo 800w is available today for consumers and businesses at Sprint Stores, online at Palm.com and through Sprint or Palm's B2B sales organizations. It will be available for $249.99 after discounts and rebates with a two-year contract.
Read our full Palm Treo 800w review.
Article Comments
(59 comments)
The following comments are owned by whoever posted them. PalmInfocenter is not responsible for them in any way.
Please Login or register here to add your comments.

Only the first 50 comments are displayed within the article.
Click here for the full story discussion page...