Palm Treo 800w Released on Sprint
Monday, July 14, 2008 8:20:02 AM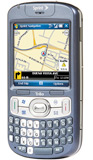 Palm today formally announced the Treo 800w smartphone running Windows Mobile 6.1 Professional Edition. The device is available now at Sprint stores and online at Palm.com starting at $249. The Treo 800w is the first Palm smartphone to include a number of new advanced features such as integrated Wi-Fi, EvDO Rev A high speed data and GPS technology.
The Treo 800w is squarely aimed at business professionals. Featuring the latest version of Windows Mobile, the device offers out of the box Exchange support with Outlook email with Microsoft Direct Push Technology and HTML support, native Microsoft Office documents, PowerPoint and PDF and zip file attachment support. The device is also compatible with Microsoft's System Center Mobile Device Manager 2008, which delivers increased security and easier smartphone management as well as access to information on the corporate network.
Treo 800w Specifications and Features
The Palm Treo 800w debuts on Sprint with a slate blue color with a soft touch exterior finish. It is outfitted with a 320x320 pixel TFT color touchscreen, a decently sized QWERTY thumb keyboard and the usual navigational pad and application buttons. A 2.0 megapixel camera is on the back that features 2x digital zoom and video capture. Also situated around back, is the removable 1150 mAh lithium-ion battery good for an imaginary 4 hours talk/200 hours standby rating. A new micro USB 2.0 port is used for power and data transfer and is the sole means for audio out via an included stereo headset.
The device is powered by a Qualcomm MSM6800A chipset running at 333 MHz. 256MB user memory is on board (approximately 170MB available user memory), with 128MB program memory. For memory expansion a microSD/microSDHC card slot is along the side of the device which can support cards up to 8 GB.
The Treo 800w has dimensions of 2.28" (W) x 4.41" (L) x 0.73" (D); (58 x 112 x 18.5 mm) and weights in at 5.0 oz (142 g).
EvDO Rev A
The device is also notable for being Sprint's first smartphone to debut with EvDO Rev A support. EvDO Rev A technology provides even faster wireless data speeds and Sprint says a "vast majority" of its network has been upgraded to Rev A. According to Sprint data, average download speeds now range from 600 kbps to 1.4 mbps (up from 400 - 700kbps) and uploads speeds in the range of 350 - 500 kbps (verses 50 - 70 kbps with EvDO Rev 0).
Wi-Fi
A major highlight for any long time Palm/Treo follower is the inclusion of Wi-Fi. The 800w supports both 802.11 b/g networks as well as 802.1x (EAP-PEAP, EAP-TLS and EAP-TTLS). Palm has made it simple to setup and manage Wi-Fi connections via a dedicated Wi-Fi button on the top of the device with can connect to open or known networks and power down the Wi-Fi radio via the touch of a button.
GPS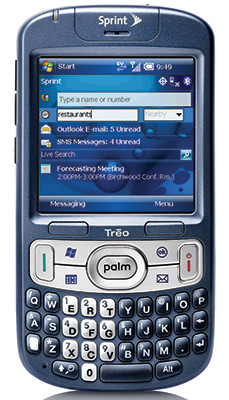 With integrated GPS, the Treo 800w smartphone offers maps, point-to-point directions and point-of-interest (POI) searches for locations such as restaurants or stores. POI search is available directly from the Today Screen and is integrated with contacts. The Treo 800w also supports Sprint Navigation for turn-by-turn directions as well as other popular third-party location-based services applications.
The device also includes Palm's Windows Mobile customizations including:
Today Screen enhancements - call, text, email, perform a web search and map a contact's address, all directly from the Today Screen;
Dial from the Today Screen - enter the contact name, select the number and dial. Add text or picture speed dials for one-touch calls to family and friends, or use the physical or touch screen number keys to dial the number directly;
Voicemail controls - VCR-like icons, such as rewind, delete and fast-forward, for easy navigation;
Ignore with text - ignore a call quickly by sending a text message, such as "In a meeting" or "Can't talk right now";
Superior phone and call management - dedicated mute, speakerphone, conference calling icons, or dial any number in an email or webpage, all with just one touch; and
Palm ease-of-use features - hard buttons for email and calendar, a five-way navigation button and on/off ringer switch.
Sprint also includes a number of extras including Sprint TV, with more than 50 live television channels and special programming, Sprint IM, Pocket Express and Sprint Navigation for turn-by-turn voice-guided and on-screen driving directions.
"Sprint recognizes that businesses must stay productive and competitive with quick, always-accessible information and assistance for their own customers," said Michael Hahn, vice president of device operations for Sprint. "With instant access to email, messaging services and the web on the nation's largest Mobile Broadband Network, Sprint provides its customers the mobile tools they need to increase productivity and improve competitiveness now."
Pricing and Availability
The Treo 800w is available today for consumers and businesses at Sprint Stores, online at Palm.com and through Sprint or Palm's B2B sales organizations. It will be available for $249.99 after discounts and rebates with a two-year contract. Its regularly sells for $599 without a contract.
To receive the best value and experience the full capabilities of the device, customers must subscribe to a pricing plan offering unlimited data. Customers can choose from Everything plans for individuals ranging from $69.99 per month for 450 voice minutes and unlimited data or the Talk/Message/Data Share plans for families starting at $129.99 per month for 1,500 voice minutes (shared between two lines) and unlimited data. Sprint also offers its signature Simply Everything plan offering both unlimited nationwide voice and data services for just $99.99 per month. Customers may also choose one of Sprint's Individual Talk Plans and add on the $30 per month Pro Pack to take advantage of data capabilities.
Be sure to also read our Treo 800w first impressions review.
Article Comments
(32 comments)
The following comments are owned by whoever posted them. PalmInfocenter is not responsible for them in any way.
Please Login or register here to add your comments.