Fair Dinkum Cracks webOS App Limit
Monday, October 12, 2009 8:36:15 AM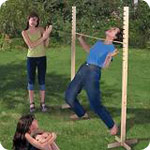 As Palm's App Catalog has ramped up, more and more Pre owners have been running into a frustrating limitation: once you hit an arbitrary boundary set by Palm, you cannot install any more apps. Whilst investigating a related issue - regarding a software conflict between homebrew installer Preware and the App Catalog that was causing freeze-ups in the latter - WebOS-Internals founder Rod Whitby has determined that the app limit has currently been set at a perplexingly low 64MB. Once you hit this bar, you'll get the dreaded "Sorry, Not Enough Memory" error.
Fortunately, a solution is at hand that will correct both the 64MB limitation and the Preware/App Catalog conflict in one fell swoop. Rod's new Fair Dinkum App Limit application is now available via Preware and will solve your woes... at least until you hit the actual 256MB maximum of the /var partition where webOS apps are installed - something for which we'll need Palm themselves to pull their finger out and fix. Interested Linux users should hit up Rod's blog for a more detailed writeup, including Palm's fascinatingly bizarre overkill in their use of the UNIX disk usage process.
Article Comments
(6 comments)
The following comments are owned by whoever posted them. PalmInfocenter is not responsible for them in any way.
Please Login or register here to add your comments.