Perfect Bounce, And Other Keen Studios-Related Things
Tuesday, October 20, 2009 12:59:12 AM

I have to hand it to Jordan Gensler: he's a tenacious little publicity-hound, doing his best to pimp his fledgling software company Keen Studios by constantly harassing your correspondent via every communication channel available (I recently had to set my dogs on some over-zealous carrier pigeons). In order to preserve what's left of my sanity, this post will endeavour to cover all both things Keen Studios that have occurred since our last update.
Numero uno: KS have just released a beta of their latest webOS game, the deceptively-addictive Perfect Bounce. The rules are simple enough: use your finger to flick a basketball into a hoop, trying to swish as many as you can within a set time interval. You wouldn't think it'd be much fun without said finger-flicking, but I've just come off the back of ten minutes of infuriatingly difficult mouse-flicking in the webOS emulator and am positively itching to try the real thing. Jordan tells me it runs as smooth as melted butter upon oil across teflon over Barry White on the actual Pre hardware, and it'll debut soon in the App Catalog at the price of one piddling little dollar. Screenshot after the jump, and a little more...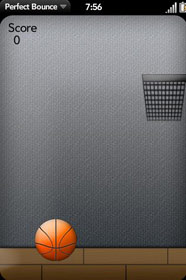 Numero dos: Keen Studios Online, the in-development webOS online gaming service, is almost ready to go. Work has completed on the services side of the equation - running via a humble Wordpress server, no less - but Keen are still smoothing out the rough edges on the application. Jordan let me poke around on the server a little, and it's looking very promising: once it's up-and-running, it should make it very simple for other webOS developers to incorporate online high scores, multi-player and the like into their games.
Article Comments
(1 comment)
The following comments are owned by whoever posted them. PalmInfocenter is not responsible for them in any way.
Please Login or register here to add your comments.