Mark/Space Releases GoGagdet for webOS
Sunday, November 15, 2009 12:20:42 AM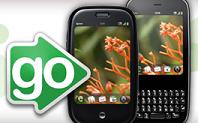 Finding USB drag 'n' drop a bit of a... well, drag? The solution may be at hand: Mark/Space this weekend released the Mac version (and a Windows beta) of their new webOS desktop media sync software, cutely entitled GoGadget. The application works to simplify the process of getting your desktop-bound multimedia files onto your webOS device - be it Pre or Pixi - by providing a one-stop shop for syncing iTunes & Windows Media Player music playlists, converting & copying video files and ringtones, importing and exporting photos, and keeping a document folder(s) in sync.
Unfortunately, it still requires tethering your handset to your PC via the USB cable. (First developer to give your correspondent a way to sync files over Wi-Fi gets a free plug on PIC!) But it still looks to be a reasonably simple media sync solution for the not-quite-tech-savvy. The application costs USD $19.95, and a free 7-day trial of the Mac version is available (as is a 14-day trial of the Windows beta, which unfortunately didn't work for me). You can check out Mark/Space's site for more details.
Leave a comment...

Click on the
Start New Comment button
below to begin a discussion.
You must be
registered
and
logged in
to add comments.