What Are Desktop Accessories?
Saturday, October 7, 2000 12:26:24 PM
One of the biggest limitations of the Palm OS is you can run only one application at a time. For example, when I'm in the middle of an e-mail in MultiMail and want to check the Calendar app to find out what date next Tuesday is, when I switch back to MultiMail, my e-mail has been saved and I have to go dig it out of the right folder to start editing it again. This gets to be a pain after a while.
But all that is behind us with a class of mini-apps called Desktop Accessories.
Desktop Accessories, or DAs for short, are a type application that can run without closing the app you are already using. They are generally very small and do one simple task, like show you what time it is or let you look up a phone number. DAs were originally proposed by Yamada Tatsushi and have really caught on in Japan but aren't yet on the radar for most U.S. Palm users.
In order to use DAs, you will need a DA launcher, which is a hack, so you will also need to install HackMaster from DaggerWare, which is $5 shareware. There are several DA launchers available as freeware. I'm using one called App/DA Launcher. Like hacks, DAs don't show up when you view your list of applications; the only way to see which ones you have installed is through your DA launcher. However, if you can delete them through the built-in Palm Launcher. Almost all DAs are freeware, though a few are low-cost shareware.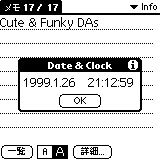 There are a lots of DAs available that can do tasks like pop up a clock or calendar or let you set the volume for all three types of sounds. There is even a new one called ClockupDA that allows you to overclock/underclock your processor.
As I mentioned earlier, Japan is the home of the DA. This means the best DA sites are hosted in Japan but at least a few have English translations. One of the best is Cute and Funky DAs by H.Yamakado. PalmGear has a few but their collection is pretty small compared to Yamakado's.
This is a completely open standard. In fact, many of the DAs come with source code. If you are a developer who wants to learn more, you should check out this page, which has the DA specifications, programming tips, and a good collection of source codes for DAs.
I have to thank Mike Cane for pointing these out to me recently. Thanks Mike!
Article Comments
(19 comments)
The following comments are owned by whoever posted them. PalmInfocenter is not responsible for them in any way.
Please Login or register here to add your comments.

Comments Closed
This article is no longer accepting new comments.