Rumor: Visor Edge Gallery Of Photos and More Details
Saturday, March 10, 2001 9:35:51 AM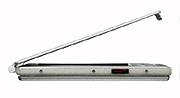 An anonymous source has just sent us an advertising brochure for the Visor Edge that will be released on Monday. It has complete details on the device as well as lots of pictures, which have been included in a gallery at the end of this article.
The most interesting part of it is what isn't included: any mention at all of a new smaller Springboard replacement. Consultation with other sources also doesn't turn up any other evidence that Handspring is planning to release a new expansion standard. So far, the only mention of this is in the Cnet article, so it seems likely that it was in error.
The device weighs just 4.8 ozs. and is 0.433 inches thick without the Springboard sleeve. The Edge has a metal stylus and a metal flip cover. The sleeve needed to use Springboards will come with it, and so will an AC adapter to allow the device to be charged on the road without the cradle. It comes with something called an "Edge connector door" which is probably a cover for the connector where the Springboard sleeve plugs in.
By the way, Handspring never refers to a "sleeve", instead it calls the removable expansion holder a "Detachable Springboard slot".
It has a lithium-ion battery and is charged by the USB cradle. The Edge's power button has an LED which lights up to indicate charging. Handspring says the Edge "lasts up to 4 weeks on a single charge" but your milage may vary. This is Handspring's first rechargeable monochrome device.
The brochure confirms many things we already knew. The Edge will run the fastest Palm OS processor currently available, the 33Mhz Motorola VZ processor and have 8MB of memory. The screen will be a monochrome LCD with 4-bit grayscale (16 shades of gray). There is no mention of a color version. The body comes in three colors: red, blue, and metallic silver.
For an operating system it is using Palm OS 3.5.2H plus. The brochure touts a new Fast Lookup feature in the Address Book which it says allows address to be looked up without the stylus. It also has a new silent alarm mode in which the LED in the power button blinks instead of a sound.
The brochure also mentions updated desktop software but doesn't give any details.
It has already been shipped to retail stores and will be available there and on the Handspring website on Monday. It will cost $400.
The brochure says Handspring is targeting this device at the "customer who craves cutting edge design and likes to show it off", and also towards people with a mobile lifestyle who value a small form factor but who still want expansion capabilities.
Click on any image to see a larger view:
Many brave Bothans died to bring you this information. Sorry, I can't post the original brochure as that would risk exposing my source. -Ed
Article Comments
(46 comments)
The following comments are owned by whoever posted them. PalmInfocenter is not responsible for them in any way.
Please Login or register here to add your comments.

Comments Closed
This article is no longer accepting new comments.