Full HandEra 330 Information Available
Friday, April 20, 2001 4:22:07 PM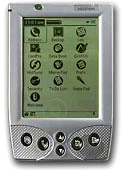 The long awaited information on the new HandEra 330 is finally available. In some ways it is similar to current models from other licensees. For example, it has 8MB of RAM, 2 MB Flash memory, and runs the 33 MHz Motorola Dragonball VZ. It uses a version of OS 3.5 that has been tweaked for it, though HandEra is promising to offer OS 4.0 when it becomes available.
However, it is also boasts numerous new features. The HandEra 330's most impressive innovation is a soft Graffiti area giving it a 320x240 screen (with the Graffiti area off). Current Palm apps can either run in a 160x160 window or be stretched to fit in the new space. An interesting feature of the 16 grey-scale screen is that it offers landscape mode.
In addition to the Compact Flash slot its predecessor had, the 330 sports an SD/MMC slot. It also has a built-in microphone and an amplified speaker to do voice recording. It can record directly to RAM or CompactFlash or Secure Digital card.
HandEra plans to offer it for $350 by the end of June, first at Sam's Club and then HandEra's Web site, Office Depot, and other resellers. pdaMD is taking preorders now.
In a wonderful departure from the actions of many of its rivals, HandEra has made the 330 the same size as the TRGpro, so it can use the same peripherals as its predecessor and the Palm III series. It is 4.7 x 3.2 x 0.7 inches and has a metal housing.
One of its most unusual features is that it requires 4 AAA batteries, which the company says gives it double the battery life of the Visor Deluxe or m100. This was probably necessary to power some CF harddrives which require lots of current. There is also an optional rechargeable lithium-ion battery pack which can be recharged through a power jack on the side of the unit. The 330 weighs 5.9 ounces with the AAA batteries and 5.4 ounces with the li-ion pack.
The 330 also has a side-mounted jog dial and a select button for one-handed use. It uses a noninverting backlight.
According to HandEra CEO Mike Downey, unlike features developed by Handspring and Sony, which Palm has the right to add back into the OS, HandEra's innovations are its own intellectual property. However, he is interested in getting Palm to standardize the OS on HandEra's screen resolution. A spokesperson for Palm said they would consider it. "I donít think we've made a decision either way," said Christy Wyatt, the head of Palm's licensing program.
However, Ms. Wyatt had nothing but praise for the new screen. "The screen itself is beautiful," she said. "It's really clear. It's really crisp." Physically, it is 2.2 x 2.9 inches. Its resolution is described as being QVGA, or one quarter the size of a VGA monitor.
Mr. Downey did admit they may have problem getting developers to write applications that can take advantage of the new screen resolution. This is mainly because HandEra is the smallest of the Palm licensees. "I think we've got challenges just because we're the little guy on the block," he said.
The virtual Graffiti are has several unique features. It can be replaced with a QWERTY one which users can still write graffiti on if they choose. Also, what are silkscreen buttons now can be replaced with icons for applications.
"The addition of an SD slot came from feedback of our TRGpro users," said Mr. Downey. "Most of the users purchased the TRGpro for its massive storage and on-device backup in non-volatile data, thanks to the CF slot. With so many input/output add-ons for CF, our users wanted another slot for memory."
Of course, the 330 comes with standard Palm OS software but also it features the QuickOffice suite, which includes applications for viewing Excel spreadsheets and Word documents. "Both of those take advantage of the resolution and larger display surface of the device," Mr. Downey says. It also comes with Chapura Pocket Mirror for synchronization with Outlook.
HandEra says its new handheld is faster than all other 33MHz Dragonball devices, such as the Visor Prism, because of the slightly faster DRAM used in the 330.
HandEra is targeting the device towards corporations but will offer it through retail, as mentioned earlier.
"As HandEra, we plan to take a leadership role in the next era of personal computing by continuing to listen closely to customer needs, and deliver products and solutions that exceed users' expectations," said Mr. Downey.
Someone has sent numerous pictures of the not-yet-released HandEra device to PalmStation. As they are sure to soon be swamped, we will be mirroring them here.
| | | | | | | |
| --- | --- | --- | --- | --- | --- | --- |
| Front View | | HandEra's Screen | | Voice Pad | | Top w/ CF and SD Cards |
| | | |
| --- | --- | --- |
| Chart in Landscape Mode | | eBook in Landscape Mode |
| | | | |
| --- | --- | --- | --- |
| Graffiti Mirroring | | Top w/o Cards | |
Related Articles:
Thanks to Jerry F. Giardina and Kent for their tips. Also, I updated this article as more information became available so some comments below were posted before full information was known. Please don't be confused. -Ed
Article Comments
(167 comments)
The following comments are owned by whoever posted them. PalmInfocenter is not responsible for them in any way.
Please Login or register here to add your comments.

Comments Closed
This article is no longer accepting new comments.

Only the first 50 comments are displayed within the article.
Click here for the full story discussion page...