PalmSource: The Future of the Palm Platform
Monday, February 11, 2002 10:55:09 AM
On the final day of PalmSource, there was a panel discussion between representatives from Palm Inc., Handspring, and Kyocera on the direction the Palm platform is going. Each of these licensees shared some his company's plans for the future and their ideas of where the Palm platform will be in the next few years. It was moderated by Steve Sakoman, PalmSource's Chief Technology Officer.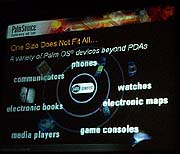 One of the most interesting moments of the talk came during Mr. Sakoman introduction, when he showed a slide of possible future types of devices running the Palm OS. The list included game consoles, watches, media players, electronic maps, and several others.
The participants in the panel were Steve Manser, the senior VP, Engineering, at the Palm Solutions Group, Stan Scheufler, VP of Product Management at Kyocera, and Rob Haitani, Director of Software and and Interface Design at Handspring.
Each of these was asked to give a general statement on the direction his company was going with hardware.
Not surprisingly, the Kyocera representative said his company's devices will be phones first, then handheld computers. Their models will always have a hard keyboard, never a virtual one.
Mr. Haitani from Handspring said, even though he was one of the original developers of Graffiti, that a real keyboard is going to be the input method of the future.
To Palm, the most important thing in the future will be wireless networking.
Then the panel began to respond to questions from the audience.
When asked where most data will reside in the future, locally on the handheld or on a wireless network, Mr. Manser from Palm said that content will be stored in both places because both options have advantages. Access to local information is very quick but is limited by storage size. There is almost unlimited storage on the Internet but this is slower because of the need to download it wirelessly.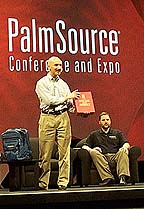 Next, an audience member asked whether any of the companies would be releasing a tablet-sized model.
The Handspring spokesperson dismissed the idea because handhelds must be able to fit in a pocket. If they don't, people won't use them. He said there will be variations in Palm OS devices but there is an upper limit in size and that is below the size of a tablet.
Mr. Sakoman chimed in with his experiences using a tablet-sized computer. He said it was useful but never left his house and rarely left the room it was kept in. He believes tablet computers might replace the home computer but never the handheld.
Then someone asked when the U.S. will settle on one wireless standard and which one it will be.
Mr. Scheufler said Kyocera will continue to use only CDMA and is confident that it is a superior technology, especially as 3G rolls out..
Handspring plans to not standardize on any of them and release devices for the different wireless options. Mr. Haitani believes both CDMA and GPRS will be around for a while and will squeeze all the others out.
Palm would prefer to build Bluetooth into its models to allow users to connect with their mobile phones. This will let the user pick any handheld they want and any wireless standard.
Related Information:
Article Comments
(51 comments)
The following comments are owned by whoever posted them. PalmInfocenter is not responsible for them in any way.
Please Login or register here to add your comments.

Comments Closed
This article is no longer accepting new comments.

Only the first 50 comments are displayed within the article.
Click here for the full story discussion page...