Two PalmOS-Ready XScale Chips Announced by Intel
Tuesday, February 12, 2002 1:46:48 PM
Intel Corp. today introduced the PXA250 and PXA210, which are part of the company's XScale family. The PXA250 runs at up to 400 MHz while the PXA210 runs at up to 200 MHz. Both are fully ARM architecture compliant and are part of the Palm OS Ready Program, meaning that either could be included in a Palm OS 5 powered device before this fall, though no company has announced that they will be using Intel's chips. Palm has said its first generation of OS 5 devices will run on processors from Texas Instruments.
Gina Clark, VP of Marketing for PalmSource, said, "Intel's high-performing, low-power processors coupled with the Palm OS, make for a compelling and powerful platform. Palm OS licensees and the broad base of Palm developers will be able to take advantage of the full benefits of the Intel XScale technology."
These new processors support Intel's new Turbo mode technology. This lets the processor scale the performance as high or low as necessary in a single clock cycle, which helps conserve battery life while still providing the necessary boosts in performance. In addition, the new micro-power management features for these devices allow the new processors to potentially use less than half the power at the same performance levels of today's Intel StrongARM SA-1110 processor.
To increase multimedia performance, the company also added Intel Media Processing Technology, which is designed to work specifically with the device's audio, video, and gaming applications to increase the number of frames per second in videos, improve sound quality and give advanced graphical effects.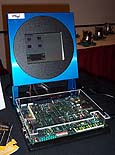 Intel was at PalmSource last week demonstrating the beta of OS 5 running on one its processors. This included showing an MPEG4 video. At the time, Intel was unwilling to give any details on the processor it was demoing. A company spokesperson is now willing to say that the PXA250 was the processor it was demonstrating. He goes on to say, "We are working as a partner of PalmSource, Inc. to continue work on OS 5 and future OS revisions."
Both the PXA250 and PXA210 are available today in sample quantities. The PXA250 at 400 MHz has a suggested price of $40 and the PXA210 at 200 MHz has a suggested price of $19 in 10 thousand unit quantities.
Related Information:
Article Comments
(41 comments)
The following comments are owned by whoever posted them. PalmInfocenter is not responsible for them in any way.
Please Login or register here to add your comments.

Comments Closed
This article is no longer accepting new comments.