Chapura Unlocks Outlook with KeySuite
Tuesday, June 24, 2003 4:13:20 PM
Chapura today released a new, comprehensive software MS Outlook synchronization package called KeySuite. KeySuite Synchronizes more details in Outlook Calendar, Contacts, Tasks and Notes. The new software provides enhanced replacements for the built-in Palm applications and combines a rich Outlook experience on a Palm Powered handheld.
"For a long time, being tied to Outlook meant you were also tied to your desk or laptop," said Keith Ellenberg, chief operating officer for Chapura. "PocketMirror software from Chapura solves that problem for light Outlook users, but KeySuite gives mobile professionals a more powerful way to take more of their important Outlook information with them to manage, organize and modify while away from their desks."
Combining the comprehensiveness of Outlook with the familiar look and feel of the Palm OS, KeySuite software components give Palm OS users already syncing with Outlook a learning curve of almost zero. Information can now be stored on the handheld the same way it's stored on the desktop in Outlook, eliminating the frustration of constantly re-organizing folders, categories and detailed information. KeySuite's four software components, KeyDates, KeyContacts, KeyTasks and KeyNotes, synchronize more information that the Microsoft Pocket PC equivalent.
KeyDates, KeyContacts, KeyTasks and KeyNotes offer the following benefits to Palm OS users:
Multiple Folders: Folders in Outlook (including public folders and subfolders) become folders in KeySuite applications on the handheld. This process is also customizable, with the option of synchronizing only some folders or subfolders with the handheld. KeySuite is the only application currently on the market for Palm OS handhelds or Pocket PC devices capable of giving users this level of flexibility.
Multiple Categories: Store items in over 250 categories per folder on the handheld. KeySuite keeps categories consistent between the handheld and the desktop, synchronizing any changes in both directions.
Contact Linking: KeySuite, unlike any other handheld application, lets you view and create contact links to other contacts, events, tasks and notes on the handheld for quick and easy reference on the go.
More Fields: Carry 65 more Outlook Calendar, Contacts, Tasks and Notes fields on your handheld with KeySuite applications than you can with the built-in Palm applications, and 34 more than Pocket PC applications.
Multiple PC's: Synchronizing multiple PCs (such as office and home PCs) with KeySuite keeps business and personal information together on the handheld but neatly organized in separate folders. KeySuite software detects when you are synchronizing folders on the handheld with a second PC for the first time and lets you choose which folders to synchronize with Outlook on the second PC.
Easy to Use: KeySuite combines the personal information management capabilities of Outlook and the intuitive interface of the Palm OS. Each KeySuite application requires a minimal number of taps or navigator button pushes to achieve maximum usability.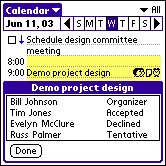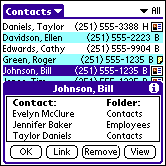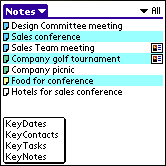 KeySuite is available for a special introductory offer of $49.95, marked down from $79.95, on the Chapura Web site. Current KeyContacts and PocketMirror Professional customers may qualify for a discount from the Chapura Web site. A free, 21-day trial version is available for download.
Article Comments
(19 comments)
The following comments are owned by whoever posted them. PalmInfocenter is not responsible for them in any way.
Please Login or register here to add your comments.

Comments Closed
This article is no longer accepting new comments.