Palm Officially Announces i705
Monday, January 28, 2002 12:01:01 AM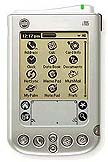 At this point, it will probably come as no surprise to anyone that Palm Inc. officially announced the i705 today. Information has been leaking on this new wireless model for weeks and it has actually been on sale at numerous stores across the U.S. since late last week.
Of course, the main function of the i705 is to provide "always on" wireless email. The user is notified as soon as a new email is received, even if the handheld itself is turned off.
It is available now for $450. It will only be offered in the United States.
Hardware
The i705 is 4.7 by 3.1 by .60 inches and weighs 5.9 oz. It's in a plastic casing and has in integrated antenna that doesn't need to be raised or lowered in order to work.

It has an SD/MMC slot that is located on its right side, down near the power button. It can't be on the top because that is almost entirely taken up by the antenna, though the infrared port is still there. The SD slot gives it the ability to use external memory cards and other SD peripherals.
The transreflective monochrome screen has the standard Palm OS resolution and a reversing backlight. The Graffiti area is not backlit.
It processor is a 33 MHz Dragonball VZ. It has 8 MB of RAM and 4 MB of ROM. The decision to use only 8 MB of memory in the device has already proved controversial, as other high-end devices announced recently have twice as much.
The i705 has a built-in rechargeable lithium-polymer battery that Palm estimates can keep the device running for a week with "normal use".
It uses Palm's Universal Connector, meaning many peripherals are already available for it. It has been confirmed to work with the Stowaway folding keyboard and the PalmPix camera which use the UC.
It has a vibrating alarm in addition to audible ones.
It comes with a flip cover that slides into a rail on the left side. This is not the same as the one on the m500 series. It comes with the standard UC USB cradle.
Wireless Access
The i705 can still be checking for messages even when the handheld is off, as long as the antenna is active. The user has complete control of when the antenna is turned on and checking for new messages. It can be turned on or off manually or on a schedule, like from 9 am to 5 pm. It can be set to become active whenever an application that uses it needs it.
It uses only the Cingular Interactive wireless network. This is the same system the Palm VII series used under a different name. Of course, the i705 has numerous abilities the VII series didn't. This network offers coverage to 93% of the urban business population in the U.S.
The user must get a Palm.Net account from Palm itself. The wireless plans include:
Associate - $20 per month - 100kb
Executive Unlimited - $40 per month
Executive Unlimited w/ Annual subscription - $35 per month
The i705 can only handle data. It isn't a smartphone and can't do voice communications.
The light on the top of the handheld is to show signal strength, indicating how good a connection the device has to the wireless network. A green light means there's a good connection, a red one means there's not. There is also an app on the i705 that gives more detailed info on signal strength.
Email
It comes with MultiMail Pro 1.0, the first real upgrade to MultiMail since Palm bought the company that developed it. This allows email to be checked from up to eight different accounts and supports email standards like IMAP, POP3, APOP, ESMTP, SMTP.
The user can also download a PQA called ThinAir from, obviously, ThinAirApps, which Palm recently bought. This also lets the user access email, though it is especially useful for America Online, which doesn't allow access from standard email apps.
An additional email address is included as part of the Palm.Net service.
The user can control how they are notified about messages. This can be with a vibrating alarm, an audible one, blinking the light on top, or a combination of these.
The i705 comes with Palm MultiMail Deluxe Desktop Link, a Windows application that can forward email from a PC to the handheld based on criteria selected by the user. For example, it can be set to forward messages only from certain people.
Palm will soon be releasing a beta of server software designed to let large companies serve their own email.
It also ships with Chapura Software's PocketMirror for synchronization with Microsoft Exchange.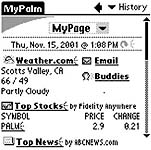 Web
The i705 still uses the Web Clipping technology that first debuted with the Palm VII series. These are small applications, called PQAs for Palm Query Apps, that retrieve small bits of information from the Web, like a stock quote. This helps save bandwidth and is much faster than downloading a whole webpage.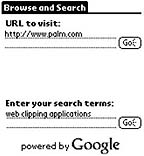 Some users find this too limiting so the i705 will also allow regular Web browsing. Reportedly this browser is weak but Palm plans to release a new one in February.
The browser as it currently exists doesn't support tables. When displaying webpages that have a left column with a collection of links, like this one, that column is displayed before the contents of the main part of the page.
As part of their Palm.Net account, the user is given access to MyPalm home page, which can be configured to display information the user finds interesting.
Palm.Net acts as a proxy service. This means that all websites that the handheld requests first go through the Palm.Net proxy server before being sent on to be displayed.
Software
It runs Palm OS 4.1 and, of course, all the standard Palm applications. In addition, it has new applications needed to handle wireless email.
It also comes with DataViz's Documents to Go Professional. This is the full version of the app, including the ability to access PowerPoint files.
The i705 comes with AOL Instant Messenger and the handheld will notify the user when an instant message arrives, even if the handheld itself is off. Other instant messaging applications will work too, like Yahoo's.
Also included are MGI PhotoSuite Mobile Edition and the free version of Palm Reader.
Target Market
Palm is targeting this device at both individual and enterprise users. It believes the i705 will be useful to anyone who is away from their desk or office for extended periods, whether across the hall or across the country. Palm also says the i705 is for large companies that have lots of employees whose job functions put them frequently on the go. This includes field sales, claims adjusters, and others.
Accessories
Palm is also offering a mini-keyboard for $60 and is similar to the SnapNType for the m500 series. The keyboard can be bundled with the i705 for $480, a $30 savings.
Palm is also offering a Slim Leather Case for $25. This has credit and expansion card slots and uses a sliding rail to hold the handheld in. It also offers a Leather Belt-Clip Case for $30 that also has slots for expansion cards.
Article Comments
(166 comments)
The following comments are owned by whoever posted them. PalmInfocenter is not responsible for them in any way.
Please Login or register here to add your comments.

Comments Closed
This article is no longer accepting new comments.

Only the first 50 comments are displayed within the article.
Click here for the full story discussion page...