PalmSource Day 3: Keeping the Palm OS Competitive
Thursday, February 7, 2002 2:06:47 PM
At PalmSource this morning, there was a keynote speech from Michael Mace, PalmSource's Chief Competitive Officer, on how the new company plans to keep the Palm OS on top of the handheld market.
He said their primary plan is to create an operating system that can run on as many different types of handhelds as possible. As he pointed out, Intel is here demonstrating the multimedia possibilities of their processors while Motorola is showing off how small devices can be and still run OS 5 on its chips. As Mr. Mace said, "The killer application is diversity."
Mr. Mace made a point of contrasting this with Pocket PC 2002, which can only run on expensive, high-end hardware. PalmSource doesn't want to same thing to happen to the Palm Platform as it leads to a situation where all the devices have similar feature sets and all the licensees just compete for the lowest price.
Instead, PalmSource wants PalmOS licensees to have room for innovative hardware. Some will built multimedia powerhouses, some will build very small handhelds, some will take on the low-end market. The company intends to strongly encourage its licensees to explore new markets.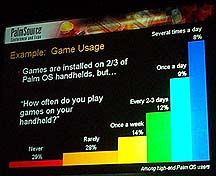 Games
Mr. Mace gave some evidence to prove that everyone doesn't need a high-end device. There is an often-quoted statistic that there is at least one game on two-thirds of all Palm OS handhelds. According to Mr. Mace, this isn't a real indication of the amount of games are actually being played.
He reported on the results of a survey that showed 29% of high-end Palm users never play handheld games and 28% do so only rarely. On the other hand, 10% of users play a game every day and 8% say they play games several times a day. As Mr. Mace said, with numbers like those there is a market for handhelds of all types.
He also took the opportunity to bring up again SEGA's announcement that it would be making games for both Dragonball- and ARM-based Palm OS models.
Applications
PalmSource is aware that one of the primary strengths of the palm platform is the large number of developers and applications. Earlier this week, David Nagel, PalmSource's chief, said there were 200 thousand active developers. He emphasized that this doesn't include everyone who has ever signed up to be a developer; just those whose accounts have shown activity in the past few months.
In an effort to encourage developers to keep creating new applications, Mr. Mace released the results of two surveys of Palm owners' use of applications.
In the past, there has been some question whether the average user is even aware that third party software exists or if they are interested in it. Mr. Mace said that a survey showed that 82% are aware that they can load third-party applications onto their handhelds and 67% have done so.
Some potential developers may believe that there is no point in releasing a new application because the market is already dominated by currently existing ones. Mr. Mace had another survey that showed that there isn't a single application that is on even 10% of all Palm handhelds, not even the big names like AvantGo or Documents to Go.
Palm vs. Microsoft
Mr. Mace also took the opportunity to point out the strength of the Palm OS's lead over the Pocket PC. While PPC has had a higher percentage growth worldwide in the past year, the Palm OS has had a larger growth in actual number of handhelds. He also pointed out a statistic that hasn't gotten much attention: last year the number of handhelds sold running neither the Palm OS nor the PPC outnumbers the total of PPC sales.
I have an interview with Mike Mace in a few hours. Got any suggestions for questions I should ask him? Update: The interview is over. We talked about most of the issues you asked about. I'll post the results as soon as I can, which might be tomorrow. -Ed
Related Articles:
Article Comments
(94 comments)
The following comments are owned by whoever posted them. PalmInfocenter is not responsible for them in any way.
Please Login or register here to add your comments.

Comments Closed
This article is no longer accepting new comments.

Only the first 50 comments are displayed within the article.
Click here for the full story discussion page...