Sony Announces OS 5 NX Series
Wednesday, October 2, 2002 12:59:17 AM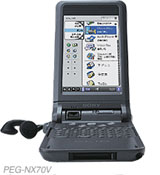 Sony has just announced the
Clié PEG NX-70V and NX-60 handhelds. These models run Palm OS 5 on a 200mhz ARM CPU (Intel XScale PAX250). They have a high-Resolution TFT 320x480 screen, 16 MB RAM, 16 MB ROM, a new wireless expansion slot, Memory Stick slot, a built-in voice recorder, MP3 player and an internal mini keyboard. The handhelds have the similar folding clamshell design from the Sony NR series.
Pricing for these models has the NX-70V at $599, and the NX60 retailing for $499. Both will be available in the US around the beginning of November, SonyStyle lists them as shipping on or before Oct. 28.
The NX70V will also have an internal digital camera and it will support MPEG-4 video recording/playback, the NX-60 model leaves out the camera.
The NX70V digital camera touts a 310K pixel image sensor, capable of shooting pictures with resolution up to 640x480 pixels. It can also record and play MPEG4 movies, at a 2MB/minute rate. Both the movies and pictures (now in JPEG format) can be saved directly on a Memory Stick.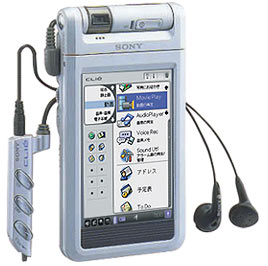 The NX handhelds have a built-in microphone which turns the NX series in a digital ATRAC3/MP3/ADPCM format voice recorder to store your memos. Approximately, more than 500 minutes of voice can be stored on a 128 MB memstick. There is also a built-in mp3 player, audio remote control and external headphones are supplied. Finally there is a polyphonic audio reminder feature, which uses the enhanced internal speaker. One can even record himself a memo to be run at a specific time. Just like the NR series, the NX series come with a 320x480 screen with graphic software graffiti area, a built-in QWERTY mini keyboard, a swivel LCD display and an elegant magnesium clamshell body. The NX series handhelds weigh 8 oz. and sport dimensions of 2.87" x 5.5" x 0.94" inches.
The handhelds will be bundled with an extensive new pack of software from Sony. The Sony launcher will now have 3 modes, Standard, Hi-Res and UI, a new user friendly mode. All of the standard Palm OS applications will now support the 320x480 mode. Clie Camera V2.0 is capable of X2 Digital Zoom and comes with thumbnail photo viewer mode. Movie Recorder v1.0 is capable of 160x112 video recording and 320x240 playback. The Clie Viewer v1.0 is a new application that will deal with all media files, including voice memos, pictures etc. Photo Editor v1.0 is a graphic editor for customizing pictures. Clie Album v1.0 is a special software to create personal photo albums with 2 templates to choose from. Sony will now include an easy way to upload images taken on the clie to it's image hosting website, ImageStation.com. Clie Memo v1.0 is an improved memo application with multiple colors and brush widths, for taking handwritten memos. Image Converter v1.0 is a utility to convert between image formats (Desktop->Handheld). Memory Stick handling applications are also included: MS Backup, MS Import/Export and Clie Files are already there. Finally, Clie Mail v2.0 is an improved version of the Clie e-mail application, with high res+ support, the ability to add picture/audio/video attachments, managing multiple email accounts, synchronizing mail with desktop application and receiving JPEG attachments.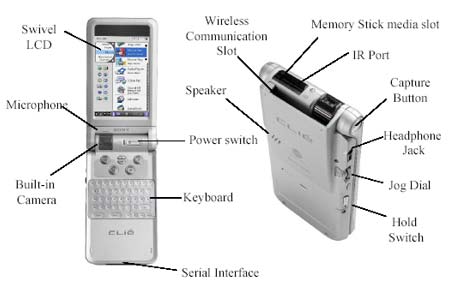 Update: Kicho, from PALMAGA, was able to get some pictures of the PEG-NX series in the Sony Tower in Tokyo.
Adam Zeit of Palmi contributed to this report.
Article Comments
(218 comments)
The following comments are owned by whoever posted them. PalmInfocenter is not responsible for them in any way.
Please Login or register here to add your comments.

Comments Closed
This article is no longer accepting new comments.

Only the first 50 comments are displayed within the article.
Click here for the full story discussion page...